Title: Gold Dust
Artist: Calvin Richardson
Label: Shanachie
Formats: CD, LP, Digital
Release date: October 25, 2019
Soul music singer/songwriter Calvin Richardson is back with his smooth R&B vibes on his new release, Gold Dust. A well-known talent in the music industry, he has written songs for artists like Charlie Wilson and Angie Stone, and has even co-written with Babyface. Calvin's songwriting leans heavily on the romantic side, showcasing his heartfelt emotions and belief in the fact that "love changes everything" in his music. This disposition, combined with Calvin's soulful, textured voice, creates melodies that define soul music in every way, which is especially prevalent on this project, his eighth studio album.
Opening with the track, "If You're Thinking About Leaving," Calvin illustrates his possessiveness and unquestionable love, despite what other people, or even his lover, may think. Next, in "Be Your Friend," he shares his belief that love should be built on friendship before anything else. This track is definitely in contrast to the more sexually oriented, passionate love songs that many others have recently released. The upbeat "Do You Wrong," featuring Jont'e Mayon, gives a view into both sides of a relationship and the mutual love and respect that occurs. "Love You Tonight" offers a sensual vibe with a more modern production, while "Ain't Nothing Like The One I've Got" brings it back to old school R&B. Gold Dust's first single, "Let Me Love On You," speaks more to the willingness to go out of one's way for their loved one.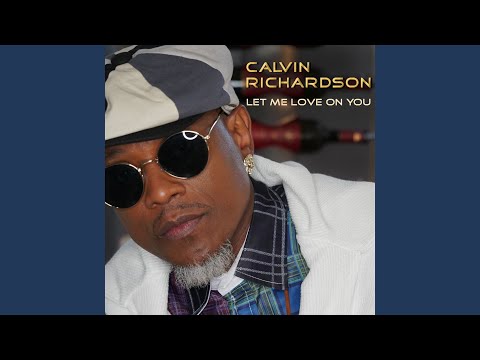 Calvin keeps it going with the next track, "Still in Love," which articulates a past relationship wrought with transgressions, and his realization that his love for his partner is still strong. "She Never Had a Real Man Like This" describes a real man in comparison to how many men behave, while "Beautiful Woman" advises men to reevaluate their relationship and truly see and appreciate their woman. Concluding with "Macaroni and Cheese," Calvin provides a musical metaphor featuring the star of any good soul food plate.
On Gold Dust, Calvin Richardson stays true to himself and his roots, giving old-school R&B fans a great place to come back for more, while adding just enough contemporary elements to keep it fresh and attract new listeners.
Reviewed by Jared Walker