Title: Check the Technique, Volume 2: More Liner Notes for Hip-Hop Junkies
Author: Brian Coleman
Publisher: Good Road
Format: Softcover book, 544 pages
Release date: October 14, 2014
The third volume of acclaimed music journalist Brian Coleman's Check the Technique / Rakim Told Me series is yet another excellent collection of interviews, photographs, and in-depth analysis. The series takes an approach that Coleman refers to as "Invisible Liner Notes – retracing the story of an album step by step, in collaboration with the artists themselves." Check the Technique, Volume 2 covers a wide variety of hip-hop albums, from as early as 1981 to 1997. Each of the 25 chapters discusses an album in length, using information from interviews with over 80 artists, DJs, producers, and industry insiders.
This volume includes "behind-the scenes histories" from albums such as DJ Jazzy Jeff & the Fresh Prince's He's The DJ, I'm The Rapper, Ice Cube's AkeriKKKa's Most Wanted, and Mos Def and Talib Kweli's Are Black Star. Interviews come from a range of artists, including 3rd Bass, Mantronix, Raekwon, Dr. Octagon, The Coup, and Kool G Rap. Coleman goes beyond summarizing the album as a whole to discuss and dissect over 300 unique hip-hop songs.
One of the most impressive aspects of this volume are the images included. As well as album covers for each of the albums, there are photos of handwritten lyrics, cassette tapes, and floppy discs that were used in the process of creating the albums, and even some images of the artists recording in the studios.
As the title suggests, this is a book that any hip-hop junkie will want. Coleman brings to life and creates a concrete record of these legendary works that remain very important parts of hip-hop history. Educators will also find this book to be an extremely informative supplement for courses on hip hop, literature, popular music, and the music industry (as illustrated in the following lecture at USC featuring Coleman, Oliver Wang, Josh Kun, and other panelists):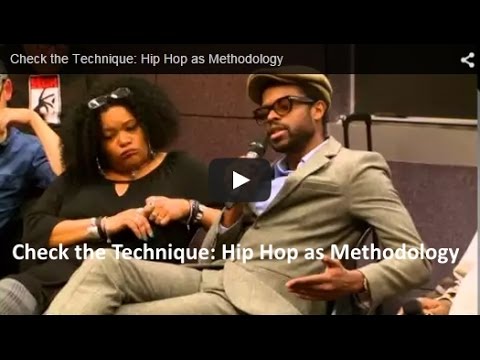 Reviewed by Anna Polovick