Title: Brahms
Artists: Zuill Bailey, Awadagin Pratt
Label: Telarc
Formats:  CD, MP3
Release date: March 29, 2011
Zuill Bailey, one of the world's finest cellists, and Awadagin Pratt, concert pianist and the first person to graduate from the Peabody Conservatory with concentrations in three areas (piano, violin, and conducting), have performed together regularly since the late 1990s.  They have just released their first recording as a duo: an all-Brahms CD on the Telarc label.
I could not help but be swept into the sonic lushness and variety of the duo's playing when I heard the first strains of Lerchengesang ("Lark Song"), Op. 70 No. 2, the cello/piano transcription of a vocal piece that opens the recording.  Bailey's control of the cello's tone color is superb: whether he is playing a gorgeous, lyrical section or a more aggressive passage, the cello's sound is velvety and rich.  Pratt's playing is technically superb, beautifully voiced and, where appropriate, nicely supportive of the cello line.  The engineers and producers should also be congratulated for the sonically rich and engaging recording they helped create.
The program contains some pieces written originally for cello and piano, notably Brahms's Sonata in E Minor, op. 38, and Sonata in F Major, op. 99.  One of the finer moments in the recording is the final movement of op. 38, which has a densely fugal texture; it is quite cerebral music, but Pratt and Bailey avoid playing the movement with the incessant, almost robotic forward motion that such writing often engenders.  The F Major sonata, with its wandering to F# in the second movement, is also well-rendered.  This reviewer especially enjoyed the opening of the Adagio Affetuoso movement; the chordal, mildly dissonant piano with the pizzicato cello has a brief jazz-inflected moment, a quality that is also present in some of Brahms's later solo piano works.
These two larger works are interspersed with shorter pieces, mostly transcriptions of Brahms's vocal works, whose lyricism translates quite well to the cello.  Lerchengesang ("Lark Song"), Op. 70, No. 2,  that opens the album is hushed and delicate; the duo performs it slightly slower than is customary, to great dramatic effect.  Though the choice of Wiegenlied, Op. 49, No. 15 (also known as "Brahms's Lullaby") to close the album is fitting, and the piece is sonically as gorgeous as everything else on the album, I would have preferred that Pratt and Bailey dig further into Brahms's collection of lieder for an equally suitable, lesser-known work to close the album.
Following is the promo video (courtesy of Concord Music Group):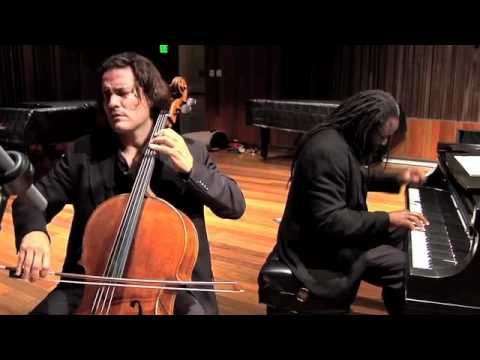 Minor quibbles about repertoire aside,  Brahms is a fantastic recording by two extremely talented performers.  It is a rewarding listen for classical music aficionados and an engaging, approachable performance for everyone else.
Reviewed by David Lewis