Title: Buffalo Junction
Artist: Boo Hanks with Dom Flemons
Label: Music Maker
Formats: CD, MP3
Release date: June 26, 2012
Piedmont guitar-slinger Boo Hanks is a regional Black stringband veteran; Dom Flemons of the Carolina Chocolate Drops is a Black stringband revivalist. The two musicians join forces in Buffalo Junction to powerful effect, making an intergenerational album that gives perspective and dynamism to this oft-overlooked genre.
Buffalo Junction is aptly titled, and not just because it is the name of Hank's hometown in Virginia. It speaks to the highly regional character of the Piedmont blues that, on the one hand, makes Hanks' style so distinctive and, on the other, has made the octogenarian virtually unknown to those beyond Buffalo Junction's hills. Until recently, that is.
When Flemons, today's premiere torchbearer of Black stringband music, heard about Hanks from the Music Maker foundation (an organization that promotes the work of traditional American roots musicians), he paid him a visit with a field recorder in tow. This album is a document of their productive first meeting. With Hanks doing his signature Piedmont picking and Flemons backing him on harmonica, jug, and bones, Buffalo Junction sounds both casual and momentous, like the natural result of two long overdue collaborators.
The album includes twelve traditional country blues songs that the two musicians recorded while waxing acoustic in Hanks' trailer home, lending the album a sound as spontaneous and rough-hewn as any first encounter. The foot-stomper "Drinking Wine, Spodie Odie" features Hanks and Flemons getting down in high Saturday-night fashion. But given both men's firmly established devotion to the music, there is a reverence and timelessness that hangs over these live recordings. "My Captain Gone on Before" is a song that pays tribute to a loved one long gone, and is a reflection on life's many beginnings and ends. Hanks closes the song and album with words of farewell, "soon my troubled days will be over."
Following is a promotional video for Hanks and Flemons' ongoing tour: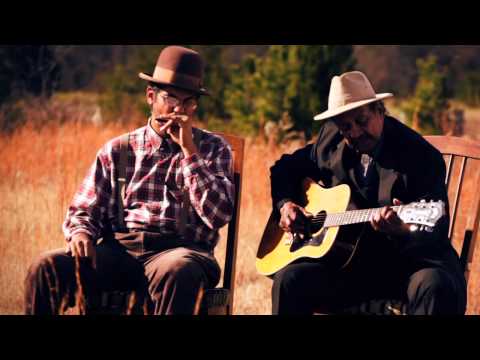 Hanks and Flemons have a musical kinship that goes beyond shared tastes. Both men have been striving for the same thing throughout their careers: a way to secure the continuity of this Black musical tradition. In Buffalo Junction, they accomplish it, if only for the length of the album.
Reviewed by Betsy Shepherd