Title: Stereotypes
Artist: Black Violin
Label: Universal Music Classics/Deutsche Grammophone
Formats: CD, MP3
Release date: September 18, 2015
Three years have elapsed since Black Violin's debut album, Classically Trained, garnered worldwide acclaim for its unique blend of classical music flavored with hip hop, jazz and R&B. The duo, featuring Kevin "Kev" Sylvester on violin and Wilner "Wil B" Baptiste on viola, demonstrate significant musical growth on their sophomore album and major label debut, Stereotypes. Whereas previous performances relied heavily on loops of arpeggios (primarily in the key of d minor), there is now a greater depth and breadth to their vision, as well as an attempt to balance instrumental tracks with songs in a variety of styles. Some of these changes can likely be attributed to producer Eli Wolf (The Roots, Norah Jones), who brought in a backing ensemble of top studio musicians—Rob Moose on strings (plus all arrangements and orchestrations), Eric Krasno on guitar, Al Carty on bass, James Poyser and Ray Angry on keyboards, Daru Jones on drums, and programmer DJ Infamous.
Stereotypes is the duo's tribute to the Black Lives Matter movement, but the opening title track also serves as a commentary on the preconceived notions they regularly encountered as black violinists:
"Being big black dudes we're 'supposed to be' athletes or we're 'supposed to be' something else, but were classically trained violinists. Instead of shying away from or not being proud of it, we stand our ground. This is who we are, this is what we do, you didn't think this was possible, but here we are."
The spoken closing lines of "Stereotypes" eloquently express their goals: "completely crushing peoples' perceptions of not only what a violin can do, or what music could possibly sound like, but also of what a black man is capable of."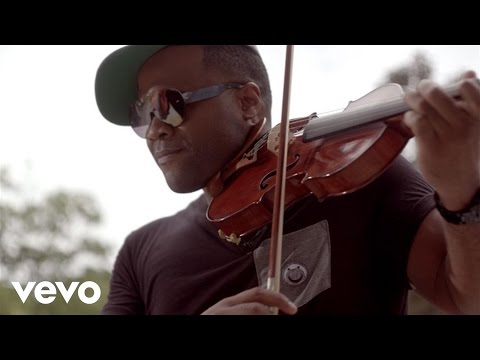 Legendary MC Pharoahe Monch makes a guest appearance on the hard hitting message song "Invisible," emphatically rapping the chorus: "I'm not Invisible, I'm not Invisible, I'm not Invisible/It's not my fault you don't understand/You can pretend not to care/That won't make me disappear/As I rise it's clear/Here I stand – Here I am." For the remainder of the album, the focus turns more towards love and relationships. Wil B takes over the vocals on "Another Chance," a convincing R&B song with shades of John Legend and a hip hop beat, with the violins alternating between static and melodic patterns leading up to the chorus "I just need a chance to show you, to make you understand/that I can't change the past, but I control the future."
Melonie Fiona and Black Thought of the Roots are featured on the heartfelt relationship song "Send Me a Sign," with Black Thought spitting the line "throw on some Serge Gainsbourg" (if you're a record collector you'll catch the significance). This is followed by a jazzy cover of the Burt Bacharach/Hal David song "Walk on By" with Angela Johnson providing the soulful back-up vocals. Wil takes over again on "Magic," crooning over the rhythm section of Angry, Carty and Jones: "It's Like magic, though I lost what I desire/It's Like magic, there's always hope to fuel the fire/and my world was once divided/now I'm feeling so alive/Yes, it's magic and so are you." On "Stay Clear," rising vocalist and Prince protégé Kandace Springs is featured alongside jazz pianist Robert Glasper, with the violins intricately woven into the mix. "Losing Control" is a great showcase for Wil's seductive R&B vocals, and there's a nice violin interlude in the mid-section.
Drawing from Aaron Copland's Appalachian Spring, "Shaker" is an instrumental based on "Simple Gifts." After playing the folk tune in its original form, the duo begins inverting the melody, eventually turning it into a fugue with Angry providing the piano glissandi. Other instrumentals include "Day 2," written in collaboration with Angry and Infamous, and the closing track "Runnin'" which showcases the violin technique of Wil and Kev with minimal backing from strings, keyboards, and programming.
Stereotypes provides the perfect balance between message songs, lively instrumentals, and heartfelt R&B ballads—while shattering preconceived notions and affirming Black Violin at the vanguard of classical fusion.
Reviewed by Brenda Nelson-Strauss