Title: Real Midnight
Artist: Birds of Chicago
Label: Five Head Entertainment
Formats: CD, MP3
Release date: February 19, 2016
Birds of Chicago defines its style of music as rock and roll poetry or even as a kind of "secular gospel." Led by vocalist Allison Russell and her husband, songwriter JT Nero, the group's folk and country roots are readily apparent. Produced by Joe Henry (who has worked with Solomon Burke, Bettye Lavette, and Emmylou Harris), Birds of Chicago's second album Real Midnight explores the transformative power of music and the inevitability of death.
The title track ebbs and flows as full, harmonious choruses intermingle as twanging guitar and soft percussion fill in gaps in the vocal lines. The lyrics speak of how limited time is, asking "now what you gonna do with your days left in the sun?" The song is a combination of country and soul, fueled by Russell's smooth voice and the rasp of backing vocalist Michelle McGrath during the chorus: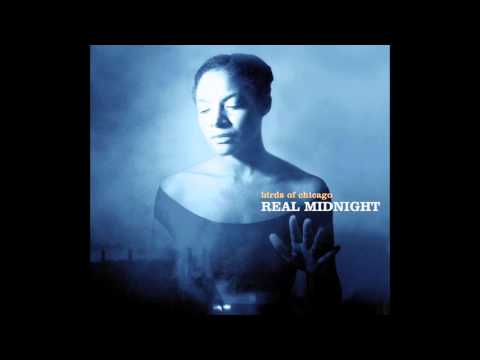 "Sparrow" is both haunting and sorrowful, a sparse song about mortality led by minimalistic banjo. "Color of Love" continues these reflective themes, taking listeners on an emotional journey that retrospectively looks back at life's important moments. "Dim Star of the Palisades" is a reminder to hold on to what's important through the hard times in life: "Storm's coming through, top's gonna blow. Hold on tight, don't let your baby go."
Though most the material is introspective, "Estrella Goodbye" is a fun, upbeat track with a harmonious chorus full of "na na na"s reminiscent of indie folk bands such as The Lumineers and Edward Sharpe and the Magnetic Zeros. Nero takes the lead in the verses with his bright vocals, and Rhiannon Giddens (of the Carolina Chocolate Drops) guest stars in the chorus.
"Pelican" is a beautiful duet between Nero and Russell with acoustic guitar and simple percussion – knocks on the guitar and a few piano notes in the chorus. It approaches the theme of mortality with a gentle hand, singing "you're not too far gone," a meditation on the power of love and redemption. This is where Birds of Chicago's "secular gospel" is most evident. Despite the song's references God, Nero has said the band does not believe in any one religion but rather in how "words and music together heal and transform like nothing else in this life."
Reviewed by Anna Polovick