Title: Roots and Branches: The Songs of Little Walter
Artist: Billy Branch & The Sons of Blues
Label: Alligator
Formats: CD, Digital
Release date: July 5, 2019
One of the greatest blues harmonica players alive today, the three-time Blues Music Award winner Billy Branch carries on the Chicago blues harp tradition he learned first-hand from legends such as Junior Wells, James Cotton and Willie Dixon. Following up on his 2014 release, Blues Shock, Branch's latest project reimagines 15 songs written or made famous by another Chicago harp legend, the late great Little Walter Jacobs. Branch is joined by his longtime band, The Sons of Blues, featuring pianist Sumito "Ariyo" Ariyoshi, guitarist Giles Corey, bassist Marvin Little, and drummer Andrew "Blaze" Thomas. Their goal for this project was to go beyond a mere tribute recording, fusing their own contemporary mix of funk, rhythm and blues, and soul into each and every track.
The albums opens with "Nobody But You," originally released in 1957 by Little Walter and His Jukes. Branch transforms the song by picking a somewhat slower tempo and more refined accompaniment, including Ariyoshi's intricate piano riffs and vocal harmonies. On Little Walter's enduring jump blues classic "Mellow Down Easy (1954), written by the great Willie Dixon, the band keeps the rocking beat but adds a funkier vibe, while Branch supplies the fast and furious harp breaks.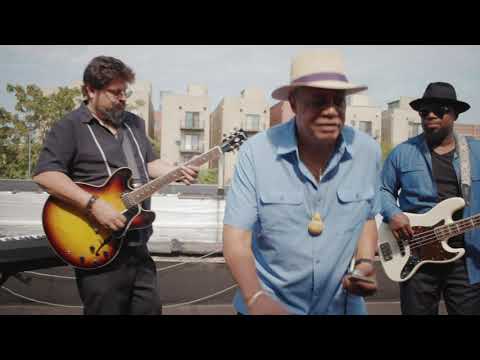 Other highlights include covers of two of Walter's biggest hits: a somewhat jazzy arrangement of "My Babe" juxtaposed with Ariyoshi's New Orleans tinged piano, and the harmonica tour de force "Juke," which Branch renders in his own steady groove. On the penultimate track, "Blues With a Feeling," the band pulls out all the stops, with Ariyoshi pounding the keys, Branch adding fuzzed up harmonica solos between verses, and Corey weighing in on rhythm guitar. The album concludes with a few brief and touching remembrances of Little Walter by his daughter, Marion Diaz.
While Roots and Branches might lack the raw fervor of Little Walter's 1950s recordings, Billy Branch & The Sons of the Blues draw from the roots of the blues harp master and create a very dense forest. This album should delight all blues fans and harmonica enthusiasts.
Reviewed by Brenda Nelson-Strauss