Bear Family has released two more compilations as part of its ongoing "Rocks" series (previously reviewed releases in this series include Smiley Lewis, Shirley & Lee, and Frankie Lymon & the Teenagers). These new CDs provide overviews of the recorded output of classic "blues shouter" Big Joe Turner and the legendary proto-rocker Little Richard. Both come with the usual Bear Family attributes of sterling sound reproduction, as well as fine biographical essays by Bill Dahl that are chock full of historical images.   There are now 44 releases in Bear Family's Rocks and Rockin' Rollin' series, alphabetically running from Pat Boone to Rusty York. These CDs are highly recommended for libraries and universities, especially those with rock history classes.
Title: Rocks
Artist: Big Joe Turner
Label: Bear Family Records
Catalog No.: BCD 17215 AR
Release date:  March 29, 2011
Starting out as a singing bartender in Kansas City in the 1930s, Big Joe Turner has as much right as anyone else to be named the founder of rock and roll, having created and recorded hard rocking R&B songs going back to 1938. Songs like "Well All Right" and "Honey Hush" are every bit as legitimate as Ike Turner's "Rocket 88" and Roy Brown/Wynonie Harris' "Good Rocking Tonight" insofar as deserving the designation of the first rock and roll song. The arrangements here range from duets with pianist Pete Johnson to performances with backing bands of various sizes featuring instrumental contributions from stars like Fats Domino, Herb Hardesty, Dave Bartholomew, Elmore James, Johnny Jones, and King Curtis. Atlantic Records founder Ahmet Ertegun even turns up as a backing vocalist (along with Jerry Wexler) on "Shake, Rattle and Roll," one of several Big Joe hits that crossed over to the pop charts (never mind that Bill Haley's watered-down version outsold Turner's original). The collection covers Turner's output through 1958's "Jump for Joy," which was his "last jaunt onto the R&B charts, peaking at #15." Turner continued recording for several more years, though with diminishing chart success. A great addition to any collection, this is a fine introduction to an R&B legend's storied career.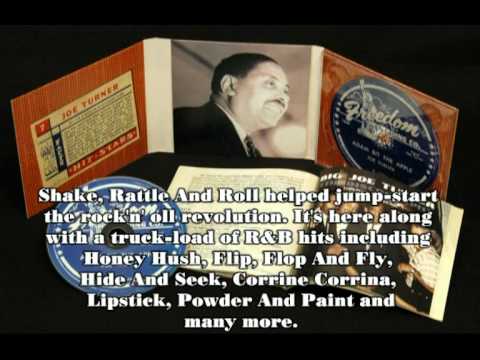 Producers of the various tracks include Herb Abramson, Dave Bartholomew, Ahmet Ertegun, Solomon Kahal, Joe Turner, Jerry Wexler ; the reissue producer was Trevor Crasser. The booklet also includes an extensive discography by Leslie Fancourt, Bob McGraw, Tony Biggs, and Bill Dahl.
The compilation includes 27 tracks recorded between 1939 and 1957:
Jump for Joy, Well All Right, Flip Flop and Fly, Love Roller Coaster, Honey Hush, I Need a Girl, Lipstick Powder and Paint, TV Mama, Hide and Seek, Adam Bit the Apple, My Gal's a Jockey, Feelin' Happy, Jumpin' Tonight, Shake Rattle and Roll, Boogie Woogie Country Girl, Teen Age Letter, Corrine Corrina, Midnight Cannonball, Bump Miss Susie, Crawdad Hole, Morning Noon and Night, Rock a While, Oke-She-Moke-She-Pop, The Chicken and the Hawk, Roll 'em Pete, Rebecca, Around the Clock Blues Part 1, Around the Clock Blues Part 2.
Reviewed by Mike Tribby
===================================================
Title: Rocks
Artist: Little Richard
Label: Bear Family Records
Catalog No.: BCD 17138 AR
Release date:  September 20, 2011
Little Richard hardly needs an introduction, having left such an indelible mark on rhythm and blues, rock 'n' roll, and gospel music. As Dahl states in the liner notes, "Little Richard was the ultimate embodiment of rock 'n' roll, dangerous and a tad exotic and utterly without constraint. No wonder conservative Caucasian parents, secure until then in the bland, Your Hit Parade-dominated sounds of the Eisenhower era, were scared out of their wits."
Though many reissues and compilations are available, this is likely the most definitive single CD you're apt to find. The tracks are primarily drawn from Richard's early RCA Victor, Peacock, and Specialty sessions, and include all of his major hits. Rounding out the disc, however, are several lesser known singles, including a cover of Fats Domino's "I'm in Love Again" on the Little Star label, credited to the World Famous Upsetters and recorded circa 1961-62 following Richard's first hiatus from secular music. The most recent track on the disc was taken from a 1970 Reprise session at the Record Plant in L.A. which culminated in "Dew Drop Inn," a "blistering tribute to the legendary New Orleans club" where Little Richard had performed an impromptu version of "Tutti-Frutti" for producer Bumps Blackwell in 1955. As they say, the rest is history.
Producers of the various tracks include Steve Sholes, Johnny Otis, Bumps Blackwell, Art Rupe, Richard Penniman (aka Little Richard), H.B. Barnum, Don Weiss, and Norman 'Hurricane' Smith; the reissue producer was Bill Millar. The booklet includes an extensive chronological discography of the recordings on the CD by Rick Coleman. Also, Bill Dahl's notes draw from an interview he conducted with Charles Connor, Little Richard's Original Drummer (and one-time brother-in-law), whose collection is housed at the Archives of African American Music and Culture.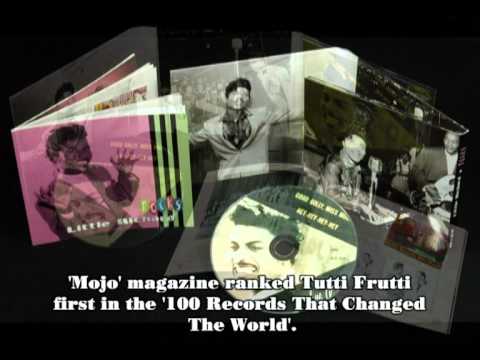 The compilation includes 31 tracks recorded between 1951 and 1970:
Tutti Frutti, Ready Teddy, Slippin' And Slidin', Long Tall Sally, Baby, Miss Ann, True Fine Mama, By The Light of the Silvery Moon, Kansas City, Rip It Up, She's Got It, Lucille, Heeby-Jeebies, Hey-Hey-Hey-Hey, Get Rich Quick, I'll Never Let You Go (Boo Hoo Hoo Hoo), Little Richard's Boogie, All Around The World, I Got It, Jenny, Jenny, Good Golly Miss Molly, Baby Face, The Girl Can't Help It,  Ooh! My Soul, Keep A Knockin', She Knows How To Rock (Rock Me), Bama Lama Bama Loo, I'm In Love Again, Lawdy Miss Clawdy, Dew Drop Inn, Get Down With It.
Reviewed by Brenda Nelson-Strauss