Title: Get in Union
Artist: Bessie Jones with the Georgia Sea Island Singers
Label: Tompkins Square
Formats: 2 CD set, MP3
Release date: October 27, 2014
When Alan Lomax first visited the Georgia Sea Island of St. Simons with folklorists Zora Neale Hurston and Mary Elizabeth Barnicle in 1935, he met the Spiritual Singers Society of Coastal Georgia, a group dedicated to preserving the folk culture of the island, which had deep roots in West Africa and the Antebellum South. When he returned twenty-four years later, he found that the island had greatly changed, but the Spiritual Singers Society remained and had grown, now led by a talented new singer named Bessie Jones.
Bessie Jones grew up in Southern Georgia with a rich musical heritage, and learned traditional folk songs from her large family. One of her biggest influences was her step-grandfather, Jet Sampson, who was born in Africa in 1836 and sold into slavery as a young child. Sampson told Bessie stories about his life as a slave and taught her many traditional songs. When Bessie joined the Spiritual Singers Society, she brought with her these songs, which eventually became part of the group's repertoire. Following is the track "Sink 'Em Low," work song Jones first heard sung by a road-crew chain gang in Georgia: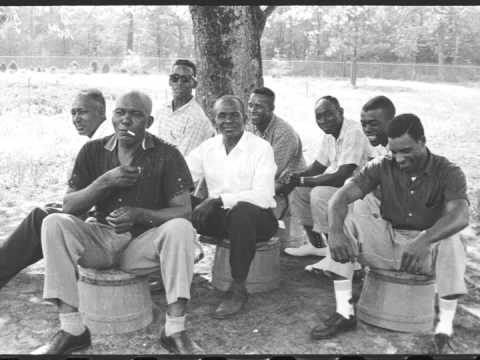 Alan Lomax recorded over sixty musical selections and interviews with the Spiritual Singers Society in the fall of 1959 and spring of 1960. He then brought the singers to Williamsburg, Virginia, where they sang for a film that recreated the early colonial era. Many of these recordings were featured on LPs in Atlantic Records' Southern Folk Heritage Series and Prestige International's Southern Journey, after the group was rechristened the Georgia Sea Island Singers.
Get In Union features twenty-six never before released tracks, as well as some of Bessie Jones and the Georgia Sea Island Singer's most famous work recorded by Alan Lomax between 1959 and 1966. The remastered audio from 24-bit digital transfers of Lomax's original tapes was produced by the Grammy-nominated curator of the Alan Lomax Archive, Nathan Salsburg. Additionally, the detailed liner notes are by Salsburg and Anna Lomax Wood, who accompanied her father on his 1960 trip to record Jones and the Georgia Sea Island Singers.
The unreleased tracks give a very special insight to Bessie Jones' music and life, as they were never made with the intention of being released. The songs are interspersed with her retellings of childhood memories, ghost stories, and herbal healing tips amongst the urban ambiance of car horns and background discussion.
Another unique track on Get In Union is an excerpt from a meeting between Lomax, Bessie Jones, and McKinley Peebles (otherwise known as Sweet Papa Stovepipe) recorded in New York in 1961. This track, "You Got to Reap What You Sow/Just A Little Talk with Jesus," demonstrates both their personalities and improvisational techniques.
Other unreleased tracks include excerpts from the 1965 Newport Folk Festival preview concert in Central Park featuring Ed Young and the Southern Fife and Drum Corps, Reverend Gary Davis, and the Georgia Sea Island Singers. Additionally, there are unreleased recordings made during the 1966 Newport Folk Festival featuring Jones, Mable Hillery and Emma Lee Ramsey, as well as singer and storyteller Janie Hunter.
Get In Union is an important compilation of Bessie Jones' music. The previously unreleased tracks emphasize her work to preserve and keep alive West African and Antebellum Southern traditions all the way until her death in 1984 through her stories, songs, and contributions to the historical Georgia Sea Island Singers.
Reviewed by Anna Polovick