Title: Abbar el Hamada
Artist: Aziza Brahim
Label: Glitterbeat
Formats: CD, LP, MP3
Release date: March 4, 2016
As the European refugee crisis sparks renewed conversations about refugees across the globe, it only seems right that Western Saharan singer/activist Aziza Brahim chimes in. Brahim grew up in a Saharawi refugee camp in the Algerian desert, and has been living in exile for over twenty years, first in Cuba, currently in Barcelona. Her latest album, Abbar el Hamada (Across the Hamada), reflects her multiple cultural identities and the political struggles that have impacted her life directly.
Hamada is the word used by the Saharawi people to describe the rocky desert landscape along the Algerian/Western Saharan frontier where many Saharawi refugee camps are located. Abbar el Hamada is Brahim's reflection on her personal journey from the refugee camp and her country's journey as a nation over the past 40 years of political turmoil.
The album has many different musical influences from the various places Brahim has lived and the people she has met along the way. "La Cordillera Negra" is an Afro-Cuban inspired track that evokes '70s recordings by the Super Rail Band, while "El Canto De La Arena" is a raw ballad that includes a soft flute. "Calles De Dajla" is described as "pulsing desert rock" and incorporates melodic blues rock guitar with West African-influenced percussion and Brahim's emotive vocals: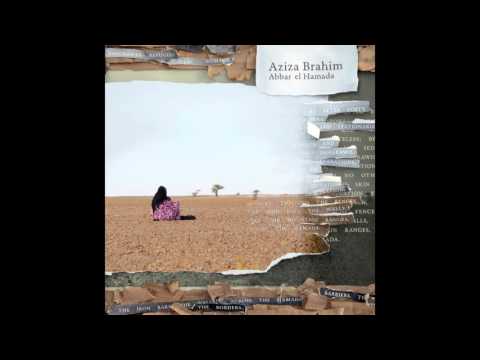 Other standout tracks on the album include "Mani," which features the Malian blues guitarist Samba Toure, and the warm, easy going yet poignant title track "Abbar el Hamada." One of the more directly political songs on the album is "Intifada," which is about the Palestinian uprising against Israeli occupation of the West Bank and Gaza Strip that started in 1987.
Though some songs reference specific areas of the world, the final track "Los Muros" ("The Walls") speaks of the many physical and metaphorical walls that divide countries and people, from the Berlin Wall to the sand fortifications Morocco has erected along the Western Saharan border of Brahim's homeland.
Despite these walls and despite the tragedy in the album, Brahim remains hopeful in her music. She sings that despite all the walls rising, "Another fleeting star was seen crossing the wall tonight / undetected by the radar, unnoticed by the guard." Abbar el Hamada encourages people to engage in conversation with each other across political, cultural, religious, and generational barriers in order to find solutions and transcend the walls that divide us.
Reviewed by Anna Polovick