Title: Richard Danielpour – A Woman's Life
Artists: Angela Brown, Hila Plitmann, sopranos; Nashville Symphony Orchestra
Label: Naxos American Classics
Formats: CD, MP3
Release date: September 24, 2013
Award-winning American composer Richard Danielpour is celebrated in this new CD from Naxos, issued as part of their American Classics series.  The album captures the Nashville Symphony Orchestra in live performances of three of Danielpour's works:  Darkness in the Ancient Valley featuring soprano Hila Plitmann, described as a symphony in five movements inspired by recent events in Iran that utilizes a wide range of Persian folk-melodies and Sufi rhythms (recorded November 17-19, 2011); the orchestral work Lacrimae Beati or "Tears of the Blessed One," referring to Mozart and the first eight bars of his Lacrimosa which served as Danielpour's inspiration (recorded November 4-6, 2010); and A Woman's Life, composed in the summer of 2007 for Angela Brown using texts by Maya Angelou (recorded September 20-22, 2012). All three performances, conducted by Giancarlo Guerrero, offer excellent interpretations of Danielpour's compositions; however the remainder of this review will focus exclusively on A Woman's Life.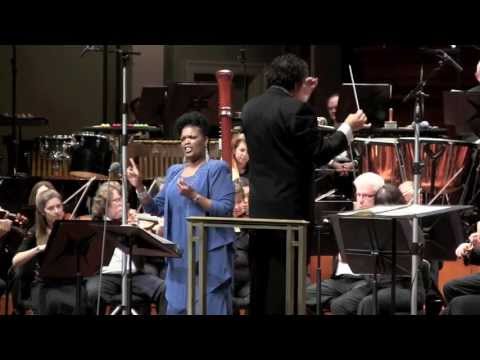 Angela Brown,* an American soprano from Indianapolis, studied at the IU Jacobs School of Music under Virginia Zeani and won the prestigious Metropolitan Opera competition in 1997.  She was catapulted to fame in 2004 after landing the starring role in Aida at the Met, and has since performed that role around the world. Her association with Danielpour began the following year when she was chosen to premier the role of Cilla in his opera Margaret Garner. According to the liner notes by Danielpour, Brown approached him about writing a song cycle expressly for her, and he in turn approached his friend Maya Angelou.  The result of this collaboration is A Woman's Life, based on a cycle of seven poems by Angelou "which charts a moving trajectory from childhood to old age." Brown premiered the work with the Pittsburgh Symphony in October 2009, with Leonard Slatkin conducting.
Brown is a diva in the best sense of the word, with an effervescent personality that allows her to deftly inhabit her roles. This ability serves her well in A Woman's Life as she moves from childish innocence singing about Daddy and dollies in "Little Girl Speakings," to the forced courage of adolescence in "Life Doesn't Frighten Me." Out in the real world she seeks love, acceptance and romance, first unsuccessfully in the poignant "They Went Home," then more provocatively in the jaded "Come. And Be My Baby." One of the highlights is "My Life Has Turned to Blue," featuring wonderfully evocative writing for vibes and harp in the intro. Brown handles this idiom with ease, darkening her timbre in the lower register and adding bluesy inflections. The closing "Many and More" is beautifully sung, the legato phrasing enhancing the contemplative text and blending with the lush strings of the orchestration.
A Woman's Life is a wonderful vehicle for Brown, showing off a different side of the acclaimed Verdi soprano, as documented in this fine performance with the Nashville symphony.
*The Angela Brown Collection is housed at the Archives of African American Music and Culture at Indiana University.
Reviewed by Brenda Nelson-Strauss