Title: Malibu
Artist: Anderson .Paak
Label: Steel Wool / Obe
Formats: CD, LP, digital
Release date: January 15, 2016
If you aren't already familiar with Anderson .Paak, prepare to get comfortable seeing and hearing him everywhere. Those words might sound like cliché "next big thing" filler, but with .Paak's recent association with Dr. Dre, appearing on 6 tracks of Dre's Compton release and his recent signing to Aftermath Records, it's clear that this up-and-comer has up-and-came. What's also clear is that .Paak is entirely deserving of this and future success not because of his tragically difficult background, but because of his resplendently smooth and positive neo-soul sound.
There is something completely and intentionally California about .Paak's music. His first two full length albums, Venice (2015) and Malibu (2016) put his home state right in their titles, and beautifully reflect the combination of abject poverty and natural beauty that draws people in and can sometimes keep them down. "The City," the third track on Venice introduces that conflict with a sample of someone making reference to Venice, CA's derogatory nickname—"The Slum by the Sea."
That juxtaposition—beauty and poverty, oppression and optimism—is what makes .Paak so compelling. His music doesn't shy away from straight talk about life's hustle, but it never allows itself to be pulled down into deep negativity.
A prime example comes from "The Dreamer," one of Malibu's most successful tracks to date: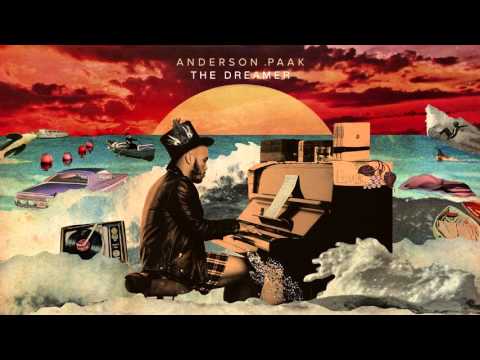 Credited as featuring "The Timan Family Choir" (four of Paak's nieces who love to sing), "The Dreamer" bursts out with a jubilant chorus:
This one's for all the little dreamers / And the ones who never gave a fuck
I'm a product of the tube and the free lunch / Living room, watching old reruns
And who cares your daddy couldn't be here? / Mama always kept the cable on
I'm a product of the tube and the free lunch / Living room, watching old reruns
In other hands these lyrics could be depressing, but .Paak arranges the smooth guitar, delicate piano, children's voice and soulful beat into a jam that celebrates survival and provides the sort of affirmational truth that encourages listeners to keep dreaming.
If anyone would have the right to write depressing music, it would be .Paak. Born Brandon Anderson Paak to a South Korean mother and a father who abused his mother and would later go to jail for drugs, he spent years living on the streets and way below the poverty level. In spite of, or perhaps because of his struggles, .Paak brings the soul to neo-soul. His music doesn't just practice retro aesthetics but expertly melded decades of African American music into something that feels entirely comfortable while sounding entirely new. A consummate musician, .Paak sings like he's in church, raps like he's on the street corner, and drums like he's in a jazz band.
.Paak has been compared to Frank Ocean and Kendrick Lamar, but the similarities lie more in ethos than sound. .Paak, Ocean, and Lamar represent a new wave of Black musicians who are willing and able to make emotionally resonant music that speaks to the politics of today's society, while remaining danceable and ready to be bumped from a car on a summer afternoon.
Reviewed by Dorothy Berry