Title: Songbook
Artist: Allen Toussaint
Label: Rounder Records
Formats: CD, Dlx. CD + DVD, MP3
Release date:  September 24, 2013
Allen Toussaint's Songbook demonstrates that the 75-year old songster still has the vitality that has been the calling card of his long and illustrious career.  Toussaint's songs are likely most well-known from recordings by the many other artists who have interpreted his compositions, many of them written for those with whom he regularly worked such as R&B singer Lee Dorsey, and others that gained popularity through secondhand covers in genres distinct from Toussaint's own New Orleans R&B style.  Songbook provides a rare opportunity to see Toussaint playing some of his most well-known numbers as well as new compositions and works that others composed—while the solo setting provides an opportunity to marvel at his skills as a singer and pianist.
Toussaint's rendition of his most recorded hit, "Get Out of My Life, Woman," showcases his infectious bluesy stride piano accompaniment complete with a range-busting interlude during the song's second verse in which Toussaint "climbs up to the top" of his piano.  "Southern Skies," the song with which Glen Campbell scored a number 1 hit on the Billboard Hot 100 in 1977, is delivered with sensitivity, allowing Toussaint to play and sing this well-known melody as a tender ballad.  This track includes a poignant, prolonged story about Toussaint's childhood trips to rural Louisiana with his family, which he accompanies with gentle onomatopoeic piano playing that highlights the drama of his narrative. This both demonstrates Toussaint's versatility as a performer and serves to provide a unique autobiographical context for this song.
Toussaint's New Orleans roots are prevalent throughout this set of songs, even though the album was recorded live at Joe's Pub in New York City (a club where Toussaint maintained a regular musical residence after Hurricane Katrina forced him to relocate in 2005). Toussaint remains firmly grounded in the soil of his hometown (to which he has since returned), most explicitly on the rollicking "It's a New Orleans Thing." His hometown flavor is also present throughout most of the songs on the album, appearing in his stride piano on "Holy Cow," the gospel-funk of "Who's Gonna Help Brother Get Further" (see video below), and the bluesy barroom swagger of "Brickyard Blues."  Despite Toussaint's age, his vocals are pristine as he delivers the essence of his picaresque lyrics with the clarity and enthusiasm of his younger days—if anything it sounds as though these songs are more comfortably worn-in here than on earlier recordings of the same material.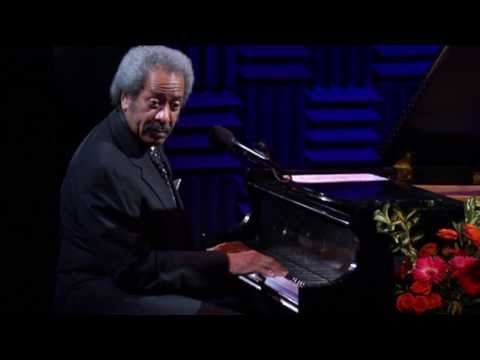 It should be noted that it's worth springing for the deluxe edition of Songbook.  In addition to the 8 bonus songs appearing on the audio CD, the included DVD contains an entire video set from one of the live performances used for this collection and also contains special features including backstage interviews with Toussaint at Joe's Pub and a lengthier interview that provides insight into Toussaint's approach to composition and arranging.  The liner notes for this release are also exemplary, consisting of a 19-page booklet detailing key events from Toussaint's life and career, providing notes about the songs included on the CDs, and featuring several full-page photos. Songbook would serve as an excellent introduction to the music of this staple New Orleans performer for a neophyte and would also be a welcome addition to the collection of longtime fans.
Reviewed by Matthew Alley