Title: Live at Terminal West
Artist: AJ Ghent Band
Label: Blue Corn Music
Format: CD + DVD
Release date: April 7, 2015
Those familiar with the sacred steel tradition will appreciate the remarkable lineage of AJ. Ghent. His grandfather, Henry Nelson, and great uncle, Willie Eason, popularized the lap and pedal steel guitar style in Pentecostal worship services in Florida in the early 1900s, and his father Aubrey Ghent, Sr. plays steel guitar with the Slide Brothers. Now 28-year-old Aubrey Ghent, Jr. is blazing his own trail, leaving no doubt as to his extensive talents. Playing a custom eight-string lap steel/Telecaster hybrid "turned on its side and strapped on like a futuristic-looking guitar-shaped rocket ship," his goal is to take the steel guitar sound learned at his father's knee to the next level.
After moving to Atlanta, Ghent performed with Col. Bruce Hampton before forming his own group which has toured with Zac Brown, opened for Robert Cray, and played alongside Gov't Mule and the Allman Brothers. Featuring Ghent on slide guitar and lead vocals, the band also includes his wife MarLa and sister Tiffany Ghent Belle on backing vocals, with Seth Watters on bass, Gary Paulo on saxophone/guitar, and Will Groth on drums. Their debut album, Live at Terminal West, offers 11 tracks of original material written and arranged by Ghent. The result is a high velocity jam that's a blend of old-school R&B, funk and contemporary bluesy rock with a twang of country.
Opening with "Call Me," the band sets a steady groove punctuated by Ghent's explosive steel riffs. The tempo kicks up a notch for "Dancin'," a rockabilly song with a dash of Martha & the Vandellas. The three guitarists are perfectly synched on "Mercy," another song that blends Southern rock and soul: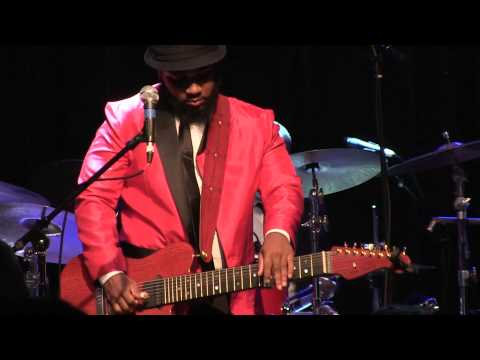 Other highlights include the slow burner "It Ain't Easy" which opens with an extended steel solo, the retro rocker "Crash" prominently featuring the ladies in the soulful chorus section, and the tour-de-force extended jam "Keep on Working." The album closes with "Tina the Superfreak," a heavy funk tribute that gets the crowd moving and grooving with cranked up fuzz guitars, slipping and sliding to an explosive finish.
The CD is packaged with a DVD of the entire concert, filmed and recorded on October 2, 2014, at Terminal West in the King Plow Arts Center in Atlanta, GA.
Reviewed by Brenda Nelson-Strauss