Title: Live at the Olympia, June 27, 2012
Artist: Ahmad Jamal featuring Yusef Lateef
Label: Jazz Village
Release date: September 9, 2014
This set from the legendary jazzmen Ahmad Jamal and Yusef Lateef proves that these veteran musicians have ideas that are as fresh as any they have ever had.  Live at the Olympia is available as a 2 CD and DVD set, with the first disc featuring a set by Jamal at the piano with his quartet, featuring Reginald Veal on double bass, Herlin Riley on drums, and Manolo Badrena on percussion.  Lateef joins this quartet on the second disc, adding his own distinctive brand of woodwind playing and singing to the trio's eclectic sound. Following is the album trailer: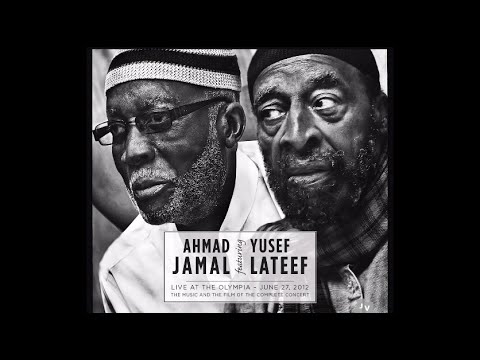 The first disc is perhaps the more consistent of the two, with Jamal and his trio locking into a set of familiar tune formulas.  Jamal performs three of his own compositions—"Autumn Rain," "I Remember Italy," and "Morning Mist"—along with several standards.  While Jamal's original tunes are certainly interesting and competently executed, the disc's most memorable cuts are the group's creative renderings of jazz standards: a somewhat fragmented Latin feel on "Blue Moon," a driving, in-the-pocket rendition of "Invitation" that allows Jamal and company to stretch out, and a stop-and-start rendering of "Laura."  As would be expected from an artist of Jamal's caliber, the playing on these cuts is excellent; Jamal presents his signature bursts of Monk-tinged dissonance, and continually trades musical cues with his bandmates, all the while maintaining a lyrical sensibility and technical precision (as is evident in the rhythm section's lock-step groove on "Invitation" or Jamal's blistering right hand runs during "Blue Moon").  A performer known more for his renderings than his compositions, it is no wonder that much of the strongest playing on this side occurs when the band reimagines tunes written by other composers.
The best moments on the second disc occur when the late saxophonist, flautist, and vocalist Lateef pushes Jamal's group out of their musical comfort zone, as he does on his mostly free-form composition "Exatogi," seamlessly transitioning to his somewhat more conventional "Masara," although this cut is complete with dissonant flute yelps. Lateef further pulls the group into a gospel-tinged hard bop idiom, contributing vocals on "Trouble in Mind" and "Brother Hold Your Light."    He does not appear, however, on the album's last two tracks: a reprise of "Blue Moon" and Jamal's signature 1963 hit, "Poinciana." Had Lateef been more prominent on this set, it may have felt like he had an actual presence in the band (particularly since his name is included in the album's title), rather than serving simply as an excellent and challenging guest performer.
Although the listener may desire more of Lateef's challenging presence, this is still a strong record.  In a contemporary jazz scene replete with consistent releases by perennial favorites playing in their long-maintained signature styles, Live at the Olympia showcases two veteran performers who were still at the top of their games.  The group's reinterpretations of the standards that they play in this concert will have collegiate jazz combos everywhere scrambling to find the grooves that this band was able to lock into, while their originals provide a study in advanced jazz composition, even if they do not lend any additions to the standard repertoire.  This is a solid release by accomplished jazz masters.
Reviewed by Matthew Alley