Title: A Little Bit of Love
Artist: Junior Toots
Label: Crown of Fire
Formats: CD, MP3
Release date: March 7, 2012
There's a lot of pressure on the son of Toots Hibbert. I mean, Toots & the Maytals are one of the biggest names in all of reggae, up there with Bob Marley and Peter Tosh. Junior Toots (aka Clayton Hibbert), then, has a lot to live up to on his new album A Little Bit of Love.
On the opening track "Ready to Come Over," you'll notice right away that Junior's voice has a smooth croon very similar to his father's.  His real vocal abilities, however, come through as the album continues, most notably on "Puss and Dog," where the gritty, grunting vocalization comes into full swing and really gives the song its energy. The feeling is replicated again in "If Africa Is Free Not Free." Toots' sincerity is echoed in his voice, and once again carries the tune.
Following is a live performance of "Puss and Dog":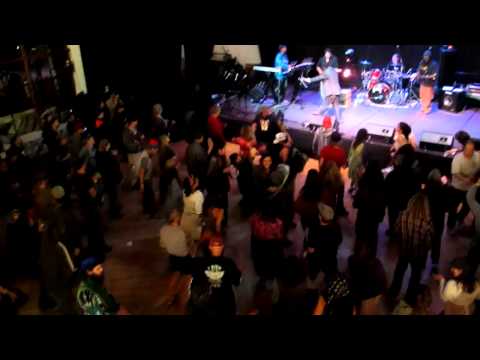 (On a humorous note, notice how after 40 years American audiences still have no real, set ideas of how to dance to reggae)
Overall, the content of the lyrics can often be understood through a quick glance at the song title. The rather direct lyrics seldom drag down the tracks, although "I Believe in You" is a little too cliché. What really matters, to me at least, is that Junior Toots is sincere is in his delivery and that he does it well. This proves to be no real trouble for Junior―whether high-energy singing or smooth crooning, his voice conveys nothing but sincerity.
What is more questionable, however, is the ability of the backing band. While every musician is talented, there are only four at the core―drums, bass, guitar and keyboards―with no horns. The keyboards act to replicate the horn section, but it's much too electronic for my tastes, and feels rather reserved compared to the vocal line. If there was at least a trombone and trumpet, with possibly a tenor saxophone thrown in for good measure, then Junior would really have a solid group to work with. The energy of this augmented instrumentation, combined with Junior Toots' already-magnificent voice, could really draw a crowd. And with the talent Toots possesses already, he definitely deserves it.
Reviewed by Ian Hallagan