April 1st, 2015
Title: EarthEE
Artist: THEESatisfaction
Label: Sub Pop
Formats: CD, LP, Digital
Release date: February 24, 2015
THEESatisfaction expand their Erykah Badu-inspired ideas about R&B and hip-hop with their second album, EarthEE.  Unlike the current crop of artists unafraid to more closely blend the two genres (Dej Loaf, Ty Dolla $ign, Rich Homie Quan, et al), Stasia "Stas" Irons and Catherine "Cat" Harris-White maintain their roles of rapper and singer, respectively, and clearly demarcate these two forms of expression.  They further eschew hooks in favor of impressionistic melodies that serve as texture rather than the music's driving force, and which fade from memory as the songs end.
A notable exception is "Recognition," one of EarthEE's more engaging, hypnotic tracks, which effortlessly interweaves a grandiose half-time beat with African polyrhythm.  The repetitive, almost chanted lyrics yield a successful exercise in minimalism.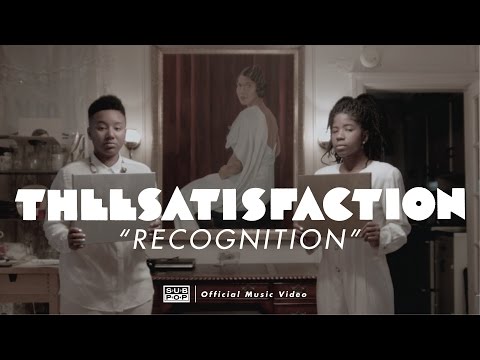 It's hard to talk about THEESatisfaction without mentioning their Afro-futurist compatriots Shabazz Palaces.  Ishmael Butler appears on two of EarthEE's 13 tracks, and Tendai Maraire contributes production as well.  The duo's growth since working on Shabazz Palaces' 2011 LP, Black Up, is apparent: song forms are extended, and the atmosphere is more celestial than their 2012 debut AwE NaturalE, which favored more typical jazz and funk influences.
While repeated listens are rewarded, EarthEE ultimately suffers from its ephemeral stream of consciousness nature, and lack of distinctive hooks or melodies.  What makes THEESatisfaction interesting is a strong command of rhythm and texture, and their slew of self-released EPs and mixtapes on BandCamp in addition to their two full-lengths are proof of the duo's restless exploration and potential to grow as artists.
Reviewed by Will Chase
Review Genre(s): Rhythm & Blues, Soul, Funk