July 1st, 2015
Title: It'll All Be Over  
Artist: The Supreme Jubilees
Label: Light in the Attic
Release date: January 27, 2015
Formats: CD, LP, MP3
The Supreme Jubilees constituted by the four Sanders brothers (Philip, Tim, Leonard, and Melvin) and two Kingsby brothers (Joe and David) first came to the limelight in the 1970s when they started to perform around California's Central Valley church circuit. The gospel ensemble released their only album, It'll All Be Over, in 1980 on its own S&K (Sanders & Kingsby) label.
As Jessica Hundley writes in the liner notes of this Light in the Attic reissue of the album, "its lyrics [are] drawn from the Old Testament, its sound from the church by way of the disco." Indeed, the nine tracks have a disco soul feel, with "decent… uptempo tunes… that have a tactile magic about them." The upbeat nature is immediately felt as one listens to the gentle unfolding of the first track, "It'll All Be Over." Further, the liner notes declare ambitiously: "If God had a disco, the DJ would be playing California gospel-soul group The Supreme Jubilees." The listener is then warned rather oxymoronically: "prepare to dance and contemplate death all at the same time." This monition is literally verified as one listens to the second track "Do You Believe":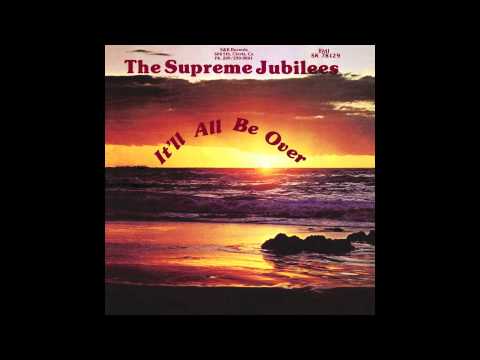 Other songs include "Thank You Lord" (track 3), "I Am on the Lord's Side" (track 4), "You Don't Know" (Track 5), "Standing in the Need of Prayer" (track 6), "Got a Right" (track 7), "We'll Understand" (track 8), and "Stop Today" (Track 9). While laden with varied if complementary religious and deeply spiritual messages, these tracks are commonly marked by that so-called four-on-the-floor rhythmic pattern that is characteristic of disco music, consisting – more or less – in a uniform accentuation of all the units of beat in a simple common time signature. A veritable disco sacro, however paradoxical it may sound!
It'll All Be Over is de facto apocalyptic both in reference and emphasis. But its apocalyptic posture has nothing to do with being gloomy; instead we have a musical picture suggesting – as Andy Beta observes (and as succinctly depicted in the album front picture) – that "the afterlife is as beauteous as the Pacific Ocean come sunset yet as warm as a baptismal dip in the Caribbean" (Pitchfork, February 13, 2015).
Reviewed by Jude Orakwe
Listen on Spotify here.
Review Genre(s): Gospel Music and Spirituals