March 3rd, 2011
Title: The Live Experience II
Artist: The Rance Allen Group
Label: Tyscot Records
Formats: CD, DVD, MP3
Release date: January 25, 2011
-
The Rance Allen Group, a Detroit-based gospel trio consisting of brothers Rance, Tom and Steve Allen, is one of the greatest gospel groups of all time. They became famous in the 1960s and '70s for incorporating rock and soul into African American sacred music, which led to huge crossover success.  Since then, this traditionally trained group has remained at the forefront of contemporary gospel music, adding an extra dimension to the genre as they lead listeners through various songs that praise God.
Following up on their best-selling 2004 project The Live Experience, the Rance Allen Group just released The Live Experience II (available on CD as well as DVD).  Recorded in July 2010 at the Greater Grace Temple in Detroit, the performance was a celebration of group's 40th anniversary.
Rance Allen's deep, colorful, and powerful voice stirs up the audience's excitement throughout the concert.  Songs like "Let the Music Get Down in Your Soul" and "Feel Like Going On" make listeners want to dance, while the rocking "Livin' for Jesus" is a powerful expression of worship.  The group's performances of ballads such as "Holy One" and "Angel" are also amazing examples of sacred-secular fusions in gospel music.
The group collaborates with several gospel superstars during the concert. "I need you /You need me / Let's work together in unity," the group sings in "United We Stand," featuring Paul Porter, Vanessa Bell Armstrong, Shirley Caesar, and Chris Byrd.  Their performance of this song, I believe, represents the ideal community in world peace, and each vocal moves our hearts with passion and make us hope that we will be able to create such peaceful unity.  Paul Porter, lead singer for the Christianiares, also gives an astonishing performance with Rance Allen in "You That I Trust":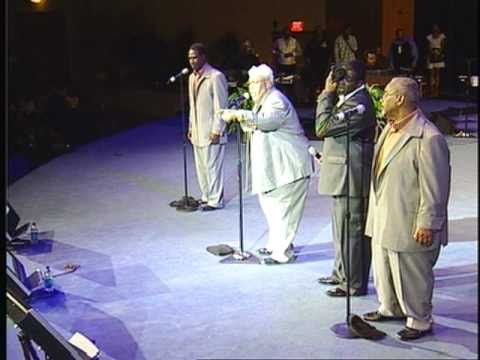 Through this live experience, the Rance Allen Group has presented its distinguished technique of ministry once more, adding another great example of the power of Black gospel music.
Reviewed by Yukari Shinagawa
Review Genre(s): Gospel Music and Spirituals