August 1st, 2010
Title: The Life I Love
Artist: Willie Buck
Label: Delmark
Catalog No.: DE-805
Format: CD
Release Date: April 10, 2010
Willie Buck, a long-time club and festival performer based in Chicago, made his only full-length album in 1982.  Originally titled I Wanna Be Loved and released as an LP by Bar-Bare Records, Buck's album has been resurrected and reissued on a Delmark CD.  Also included are 5 tunes recorded live at Robert's 500 Room in Chicago back in 1984.
Buck hails from Houston, MS, born William Crawford in 1937.  He migrated to Chicago in 1954 and eventually became a Maxwell Street mainstay.  According to Delmark's website, he "was inducted into the Blues Hall of Fame in Chicago in the summer of 2004."
On this recording, Buck demonstrates a strong influence by Muddy Waters, covering six Waters' staples ("She's All Right," "I Live The Life I Love," "Champaign and Reefer," "Nineteen Years Old," "I Want You To Love Me" and "Got My Mojo Workin'") on a 12-song album.  And there's another Waters' song, "Blues Had a Baby," in the 5-song live set.
But Buck is not just a Muddy wannabe.  For one thing, he's got some heavy duty backing: Louis and Dave Myers on guitar and bass; Little Mac Simmons on harp and Big Moose Walker on piano.  These guys were playing sessions for Delmark, Chess and Vanguard in the 1960s while Buck was still up and coming on the local club scene.  Also backing Buck are John Primer on guitar, Dimestore Fred on harp and Jerry Porter on drums.  Jodie North plays drums on the live set.  The band plays many of these songs harder and slightly faster than the originals, giving them a bit of a modern touch.
Aside from the Muddy Waters tunes, Buck covers songs originally recorded by Little Walter (Walter Jacobs), B. B. King and Al Green.  He is equally comfortable performing these songs, and he also penned two originals for the studio recordings.
Following is a clip of Willie Buck performing Little Walter's "Walkin' In the Park" in a South Side club in 2008: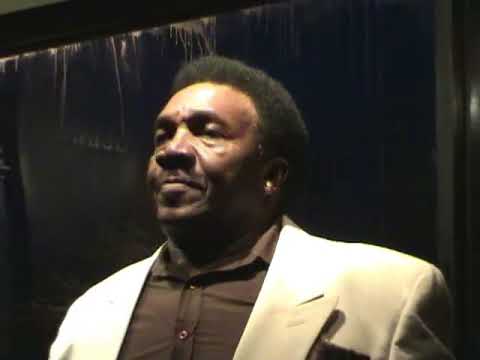 The overall quality of this album is rooted more in the '60s or early '70s than its 1982 and 1984 recording dates would lead one to expect.  Buck was hewing to a tradition that was vanishing at the time; by the 1980s, a slicker and louder kind of blues was taking hold in Chicago.  Buck is still active on the festival circuit, and in Europe, so he is now what would be considered old-school.  However, keep in mind that he was a generation removed from the men who originally wrote and performed most of these songs, so the listener is experiencing something of a game of "telephone," removed from the original and exposed to interpretation.  That's not a bad thing when the interpretations are good, and here is where Willie Buck delivers.
The combination of Buck's very sure and natural vocals, the superb backing band and a pleasingly dense recording mix, makes this album a lot of fun to listen to and holds up well with repeated plays.  The live recordings are rough, and the playing is not up to the studio par, but the excitement Buck generated in that club, now 26 years ago, is undeniable.
Reviewed by Tom Fine
Review Genre(s): Blues