September 1st, 2010
Title: Interpretations: The British Rock Songbook
Artist: Bettye Lavette
Label: Anti
Format:  CD, MP3
Catalog No.: 87029
Release Date: June 25, 2010
-
Back in the '60s and '70s, the British rock music scene was built around interpreting, copying and sometimes stealing songs from black American artists.  The Beatles were heavily influenced by Chuck Berry, Little Richard and the Motown sound.  The Rolling Stones named their group after a Muddy Waters song and made it a goal (eventually achieved) to record in the famous Chess studio in Chicago.  The Who covered James Brown and other soul pioneers.  Not to mention the Animals, Kinks and then later bands like Led Zeppelin and the Jeff Beck Group.
Now, soul diva Bettye Lavette has turned the tables.  Her new album is made up entirely of songs written by white British rockers, from the Beatles and Who to Pink Floyd and Elton John.  The title is apt, because these are new interpretations of familiar tunes, songs that have had heavy FM radio rotation for decades.  It is a bold move to take these well-worn songs and try to make them sound new, bolder still across a divide of continents and cultures.  For the most part, Lavette hits her mark and prompts a listener to re-think and re-imagine these familiar tunes.
The album evolved out of Lavette's December 2008 performance at the Kennedy Center Honors tribute to the Who's Pete Townshend and Roger Daltrey.  She burned down the house by transforming the rock anthem "Love Reign O'er Me" into a soul ballad.  That performance is included as a bonus track on this CD. The buzz from that performance led Lavette and co-producers Rob Mathes and Michael Stevens to concoct a whole album of British rock classics, interpreted by Lavette and arranged for soul band, horns and strings by Mathes.  Following is the trailer for the album (courtesy of Anti Records):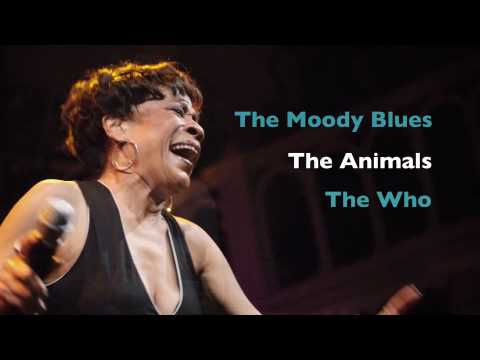 The result is mostly a very good affair with weak spots. Basically, the better the original material, the better Lavette delivers it her way. Because she often slows down the tempo, songs that were originally slow can drag and originally faster songs lay into a lazy soul beat, for better or worse.  The Beatles "The Word" is turned into a soul burner.  Pink Floyd's "Wish You Were Here" is re-arranged and remade to emphasize the song's longing and sense of loss.  The Rolling Stones' "Salt of the Earth" receives updated lyrics referencing HIV and modern politics.
Most surprising is the transformation of "Why Does Love Have To Be So Sad," originally by Derek and the Dominos.  Written by Eric Clapton and Bobby Whitlock, the song is about Clapton's heart-ripping pursuit of his best friend's wife, Patty Harrison (wife of George Harrison).  The original song is faster-paced than most Dominos tunes, but it's still a downer due to the subject matter and Clapton's tortured delivery.  In Lavette's hands, it's an up-tempo funk jaunt, complete with hammered bass and horn fills. It works very well because of Lavette's world-weary voice and the superb playing behind her.  Some material, however,  like Led Zeppelin's "All of My Love," the Animals' "Don't Let Me Be Misunderstood," and the Moody Blues' "Knights In White Satin," just doesn't work too well as slow-tempo soul songs.  The lyrics sound stilted and the music drags.
The album was well-recorded and Doug Sax did a fantastic mastering job, so it stands up to repeated listening and won't wear out your ears. For the most part, these are very interesting new versions of familiar songs, all of them interpretations rather than covers and, in the best cases, new transformations.
Reviewed by Tom Fine
Review Genre(s): Popular, Rock, and Misc.