October 1st, 2012
Title: Mecoustic
Artist: Tarrus Riley
Label: Soulbeats
Formats: CD, MP3
Release date: September 25, 2012 (U.S.)
Tarrus Riley is a second generation reggae star. His father, Jimmy Riley, had a string of reggae hits in the 1970s, working for a variety of Jamaican producers including Lee 'Scratch' Perry, Duke Reid, and Bunny Lee before becoming an accomplished producer in his own right. Whereas Jimmy Riley recorded in ska and rocksteady along with reggae, Tarrus's recordings are generally in the roots tradition of Bob Marley or Dennis Brown with most of the lyrics centering on appreciation of Jah and living a spiritual life, or the social conditions that continue to bedevil the sufferers in the Rasta community in Jamaica and elsewhere.
Tarrus Riley's new album Mecoustic features slow, heartfelt songs with excellent production values that provide a very clean overall sound with full-range audio response that emphasizes the top end as well as the bass, which is not always the case in reggae. This provides clarity to Riley's soaring vocals and emphasizes the tasteful orchestration in the production. The focus is on lyrical songs of devotion with soulful backup vocals and appropriately spare arrangements. This is about as far as one can get from dancehall or dub while staying in the reggae idiom, so rather than a party scorcher, this is a set for contemplation and appreciation of Jah and his love.
Highlights include Tarrus's duet with Jimmy Riley on "Black Mother Pray," "Marcus Garvey" (not the Burning Spear song, but another fitting tribute to the prophet of Rastafari), and a duet with the sultry and expressive Cherry Natural on "System Set."
Following is a live television performance of "System Set" (sans Cherry Natural):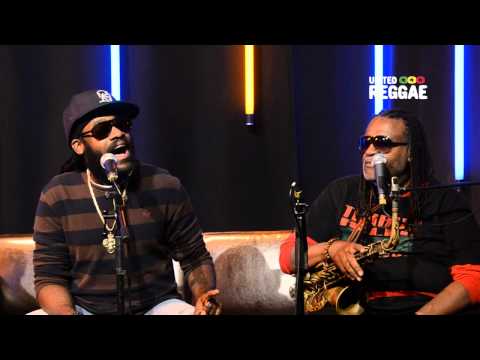 A timeless collection and likely a crowd pleaser, Mecoustic should add to Tarrus Riley's string of chart toppers.
The complete set list: Larger Than Life (4:36); Black Mother Pray (ft. Jimmy Riley) (4:46); She's Royal (4:13); Devil's Appetite (4:10); If It's Jah Will (3:57); Marcus Garvey (5:24); Eye Sight (4:36); Paradise (5:07); Pick Up the Pieces (6:11);  One Two Order (4:00); System Set (ft. Cherry Natural) (4:56); Africa Awaits (5:51); Other Half (3:43); Eye Sight (Bonus Track, 0:42); Whispers (5:42).
Reviewed by Mike Tribby
Review Genre(s): Reggae