February 2nd, 2016
Title: #LoveInEvolution
Artist: Sweet Honey in the Rock
Label: Appleseed Records
Formats: CD, MP3
Release date: January 22, 2016
Sweet Honey in the Rock is an acclaimed a capella group that has incorporated soul, jazz, spirituals, and blues into their music for over 40 years. On their first studio album in nine years, #LoveInEvolution, they explore current topics such as mass shootings, systematic racism and climate change, while displaying a warm heart and soul that chooses hope over fear.
Sweet Honey in the Rock still has two original members, Carol Maillard and Louise Robinson, who lend their seasoned voices to create soulful harmonies with newer members Aisha Kahlil and Nitanju Bolade Casel. Since 1981 they have also been joined by sign language interpreter Shirley Childress in all performances, which shows their commitment to making music accessible to all.
Much of #LoveInEvolution is a mix of spoken word and song. For instance, their Marvin Gaye cover "Mercy Mercy Me (Evolution)" has a great deep bass and extended introduction explaining the meaning of the original song and Gaye's What's Going On album. Aisha Kahlil speaks and riffs for nearly three minutes before the rest of the ensemble joins in.
Of the original songs on #LoveInEvolution, "Second Line Blues" may be the strongest, particularly in its message. Calling out the names of "innocent people who have fallen victim to murder at the hands of anyone from deranged citizens to police abusing their license to kill," this incredibly powerful track is more spoken than sung, backed by a stark snare drum march beat and mournful vocals.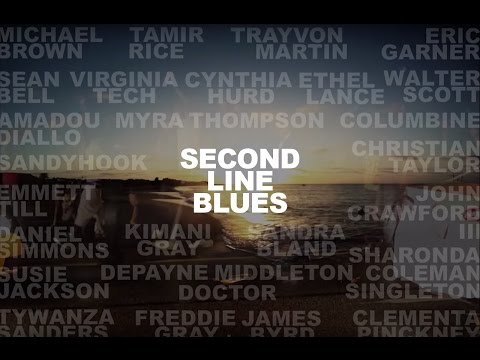 "Oh, Sankofa" also reiterates the theme of systematic racism in the United States, but it emphasizes the importance of remembering history, saying: "We must remember, perhaps forgive but not forget, so we will not repeat the past." "The Living Waters" addresses both the lack of clean drinking water in the world (foreshadowing the crisis in Flint, Michigan) and climate change.
There are many genres present on the album, including the more contemporary track "IDK, but I'm LOL!" where a group member portrays a radio deejay, and the spiritual "I Don't Want No Trouble at the River." These songs round out the album, combining heartwarming, easy-listening a capella tracks with more serious topics that beg the listener to consider contemporary world issues but never lose faith.
Reviewed by Anna Polovick
Review Genre(s): African American Culture & History