October 1st, 2012
Title:  And for the Dark Road Ahead
Artist:  Samuel James
Label:  NorthernBlues Music
Formats: CD, MP3
Release date: September 18, 2012
As soon as the opening bars drifted from the speakers, I suspected And for the Dark Road Ahead would offer a unique listening experience, and by the closing bars I was thoroughly convinced.  Calling the album atypical is an understatement, for Samuel James's style harkens back to the pre-war acoustic blues era when storytelling often took a backseat to vocal prowess.  Indeed, James has resurrected the art of the talking blues, albeit in a highly individual, conversational manner.  The fact that he never actually breaks into song is explained in one of his blog posts: "I can play the guitar better than almost anybody, but sing worse than almost everybody."  So he carries forth in a gravelly, world-weary speaking voice that belies his age (he just turned thirty).
The Portland, Maine based musician is well known on the Northeastern blues circuit, and I'm pleased to have discovered him through this CD, which is actually the third in his trilogy of albums on the NorthernBlues label.  Equally at home on guitar, dobro, piano, harmonica and banjo, James is something of a one-man band, eliciting sounds  in a variety of ways―picking, strumming, sliding, slapping, and thumping his way through each track. His highly literate and witty songs are as original as his style, ranging from existential ponderings on "Camus" to explorations of relationships in "Another Backyard Burial."
Following is the official music video for the third track on the album, "Nineteen," which displays his deft fingerpicking style: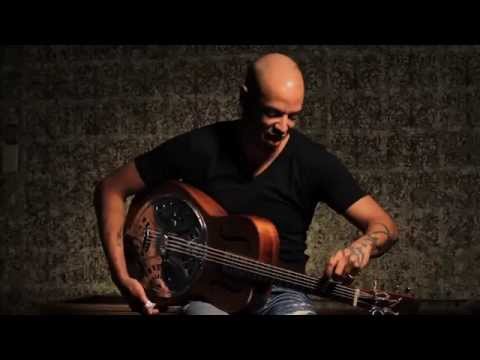 Like the Carolina Chocolate Drops, Samuel James is a master at reinventing and reinvigorating styles and techniques from a bygone era.  I sincerely hope that in the near future his tours and recordings bring him to the attention of a wider audience.
Reviewed by Brenda Nelson-Strauss
Review Genre(s): Blues