April 1st, 2016
Title: The Earth Wants You
Artist: Reverend Billy & the Stop Shopping Choir
Formats: CD, Digital (to be distributed via iTunes and website)
Release date: April 22, 2016
Scheduled for release on Earth Day 2016, The Earth Wants You is the title of both a CD and motivational book (available via City Lights Publishers), written and performed by New York based artists-activists Reverend Billy & the Stop Shopping Choir. A fixture at Occupy Wall Street and other demonstrations around the country, Reverend Billy (aka Bill Talen) and his multicultural tribe refer to themselves as "wild anti-consumerist gospel shouters and Earth loving urban activists" fighting the dual devils of consumerism and militarism. One of their high profile projects was the 2012 film, What Would Jesus Buy?, a commentary on excessive consumerism during the holiday season that fueled their stop shopping movement (a theme echoed in their 2009 album The Shopocalypse). Their new project recognizes the Earth's crisis, accelerated by the "extractive imperatives of global capital."
One of the catalysts behind the Stop Shopping Choir is OBIE Award winning director Savitri D., who has led the group through performances of "cash register exorcisms" and cell phone operas, in places as diverse as the Redwood forests, Burning Man, Monsanto chemical factories, and on the roof of Carnegie Hall in a snowstorm. Their mantra is: We love music, we love the potent force of harmony and rhythm, we love the struggle, we love the earth! Direction also comes from key musicians within the choir, including emeritus choir director James Solomon Benn and composer-conductor Nehemiah Luckett, whose backgrounds in choral and Black gospel music amp up the church atmosphere.
The Earth Wants You is a concept album touching upon the primary issues addressed by the group: earth justice, consumerism, first amendment rights and neighborhood defense. The majority of the songs were written by Talen, Luckett, E. Katrina Lewis, and Laura Newman, and they flow like an off-Broadway musical (there may, in fact, be a staged version).
The album opens with the full chorus on "Flying," a song bemoaning the plight of the honeybee. This segues into the climate change warning, "Fabulous Bad Weather," the album's first single, featuring "Diva of the Church of Stop Shopping" Laura Newman in a lead solo that could stand shoulder-to-shoulder with the likes of Merry Clayton.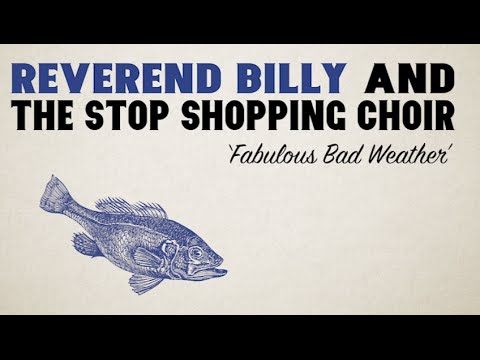 Choir member Dragonfly—"an auteur, raconteur, provocateur, and Southern Missionary Baptist deacon's daughter"—is featured on "Revolution." Beginning with a choral introduction, Dragonfly then offers an emotional recitation of the two verses, with dense lyrics warning of deforestation, global monoculture and Wall Street greed followed by the call to action: "They want you a consumer, dazed and in a stupor / apathetic, sedated and politically neutered / Or you can be a real citizen / Take your dreams into the streets and stand for all you believe in!"
"Monsanto is the Devil" addresses agricultural chemicals and genetically modified seeds, protesting "this seed she's not a logo, can't kill her with your name." "The Human Blues," preached/sung by Rev. Billy, is not overtly about overpopulation, but instead focuses on the destruction of habitat and elimination of species.
Turning to issues of communities and social justice, "Man Down" name checks Michael Brown, Eric Garner, Sandra Bland, Freddie Gray and others shot by police and vigilantes, while the choir prays for everyone to "Get home safe."
Other tracks on the album include "Climate Change Blues" featuring Luckett and Amber Gray, the inspiring choral anthem "Gratitude" that gives encouragement to demonstrators, and "We Are the 99 Percent" that draws it's text from the September 29, 2011 Declaration of the Occupation of New York City. The album concludes with the songs "Cop & Bankers" ("we gotta love them too") and "Shopocalypse" ("the oceans rise but I must buy").
Though The Earth Wants You obviously holds more appeal for the liberal crowd, the music is extremely well-written and performed, with provocative and compelling lyrics. The first rate band is led by producer Juno Black and composer Nehemiah Luckett on piano and organ.  As the good Reverend states,
"Our idea of bringing humor and music and marrying them to a statement of conscience is not a new concept. The labor and civil rights and gender rights movements inspired us all with their music…These days it's not enough to be against tragedy and injustice. We need to be for life. We're followers of Life on Earth. Isn't that hilarious? Yes, and it's the only way we'll ever save our ass. Amen!"
Long live Earth Day – and the Earth!
Reviewed by Brenda Nelson-Strauss
Review Genre(s): Popular, Rock, and Misc.