November 1st, 2011
Title: Reggae's Gone Country
Artists: Various
Label: VP Records/Warner Nashville
Release date:  August 29, 2011
==========================
A joint production of reggae label VP Records and country label Warner Music Nashville, Reggae's Gone Country is exactly what it sounds like: a collection of country music classics stripped down to their roots, infused with reggae aesthetics and instrumentation, and given to some of the Jamaican popular music industry's hottest stars to interpret for a contemporary audience. If the idea seems a tad gimmicky, the first listen might not do much to help the situation; it can be a conceptual challenge to come to grips with the album's outlandish combination of driving reggae drum, bass, and skank guitar rhythms overlaid with twangy country pedal steel, fiddle, and banjo ornamentations. Once the listener has acclimatized to this fascinating juxtaposition of musical elements, however, Reggae's Gone Country is actually a wonderful album through and through, with several beautiful and innovative renditions of expected and unexpected country favorites by an all-star cast of reggae luminaries (like Beres Hammond and Freddie McGregor), current kings and queens of the Jamaican popular music industry (like Tarrus Riley and Etana), and brand-new up-and-coming stars such as 21 year-old Romain Virgo, whose collaboration with country legend Larry Gatlin on the Gatlin Brothers' song "California" is the album's lead single: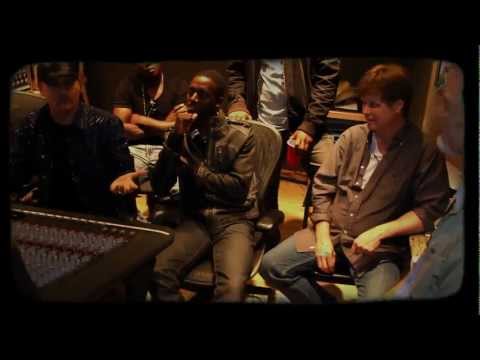 To truly appreciate Reggae's Gone Country, however, one must know the story behind it. According to the liner notes and an informative YouTube mini-documentary, VP Records vice president Cristy Barber dreamt up the concept for the album as a way of uniting her two loves (reggae and country music), and she assembled a crack team of Nashville and Kingston producers and musicians to help put the project together. But what many reggae and country fans alike may not realize is that country is, and historically has been immensely popular in Jamaica, and it actually shares much in common with reggae—both are musics of marginalized working class populations, both sing of love, criminals, and spirituality, and both relish a good story. Thus, the songs chosen for the album were not simply U.S. country favorites foisted upon a group of Jamaican reggae stars largely unacquainted with them, but rather some of the most popular and beloved country tunes in Jamaica itself.
While the album's story might be an inspiring account of cross-cultural collaboration and mutual appreciation, however, the logistics of its production may have stifled some of its potential for true genre-bending creativity. Indeed, if the record sounds like a collection of reggae rhythm tracks recorded by session musicians in Jamaica, sent to Nashville for leads and ornamentation by American country string players, and then shipped off to the singers to add their vocal contributions, that's largely because it is; the liner notes state this in no uncertain terms. While the quality of the musicians is extremely high—collaborators include reggae drum luminary Sly Dunbar and pedal steel legend Mike Johnson—the music itself is therefore fairly 'safe,' with each instrument playing a clear, compartmentalized, genre-defined role and straying little from it. There are, for example, occasional incidences of the backing musicians from one idiom toying with elements of the other (as when the lead banjo plays the trademark reggae guitar 'skank' pattern on L.U.S.T.'s rendition of The Statler Brothers' "Flowers On the Wall"), but I think there was definitely fertile ground for more musical experimentation of this kind, and that a closer collaboration between the various groups of musicians themselves might have better facilitated it.
Overall, though, this is certainly an album worth checking out; there is not a song on here that I haven't grown to love, though some certainly stand out more than others. Tarrus Riley's version of "The Chair" by George Strait and Duane Stephenson's interpretation of "Suspicions" by Eddie Rabbit are personal favorites, and even dancehall DJ Busy Signal's autotuned vocals on his rendition of Kenny Rogers's "The Gambler" somehow seem to work in the context of the project as a whole. In the liner notes, Cristy Barber explains that "with the music industry where it is now, we need more people at the reggae party and I am really hoping this album will give more exposure to the genre."  I, on the other hand, am inclined to believe that it will do more to expose reggae fans to country classics than it will to inspire country aficionados to develop a taste for reggae's contemporary trendsetters. Either way, Reggae's Gone Country is undoubtedly a unique and thoroughly enjoyable first step in what may very well become a long series of collaborations between Nashville and Kingston, and I for one am quite interested to find out what directions these relationships may take in the future.
Reviewed by Eric Bindler
Review Genre(s): Folk and Country,Reggae