October 1st, 2012
Title: 2 Tone Gone Ska
Artist: Phoenix City All-Stars
Label: Phoenix City Records
Formats: CD, MP3
Release date: September 11, 2012
2 Tone Gone Ska presents a collection of popular second-wave ska songs from the legendary 2 Tone Records label filtered through a first-wave context. In other words, it's as if the Specials and Madness were based in Kingston during the 1960s. This mood is effectively captured by the Phoenix City All-Stars, who rework these British hits into a classic Jamaican musical form.
Comprised mainly of instrumentals, 2 Tone Gone Ska is a return to a time when ska helped usher in Jamaican independence in 1962. Starting off with the Madness hit "One Step Beyond," an entire horn section now takes over for the sole sax lead in the original. The song, and for the most part, the album as a whole provides a much heavier sound than the originals. With a prominent swinging bass, less trebly keyboards, and a fuller horn section, these songs have been completely overhauled. Through the layer of instrumental tracks, two songs emerge that contain impressive vocals by the famous Jamaican singer Dave Barker of Dave & Ansel Collins fame.  Although now 63, Barker sounds just as talented as he did on Double Barrel with his renditions of "Tears of a Clown" and "I Can't Stand Up For Falling Down."
Following is the album trailer: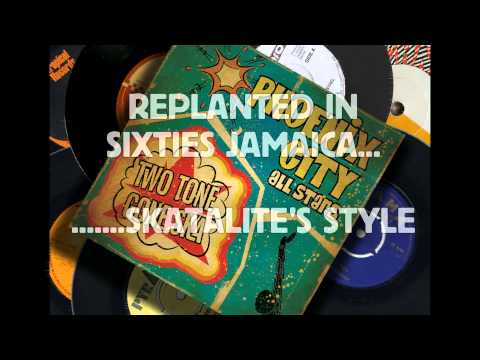 With a host of skilled musicians and seasoned vocalists on board to lend their talents, 2 Tone Gone Ska is an album that can easily be listened to on repeat for several days. With each listen the songs get increasingly stuck in your head, as I found myself whistling "Ghost Town" on more than one occasion. However, the album's eight tracks measure up to being only a little over 25 minutes, which perhaps necessitates its being on repeat. This is a little disheartening, since there is so much good material that could have made its way onto this compilation. What about a cover of "Night Boat To Cairo?" Or a classic ska rendition of "Do the Rocksteady?" Whatever the reason, it is hard to deny that 2 Tone Gone Ska makes up for the short runtime with a talented group of musicians who have a great understanding of ska and are able to make unique interpretations of these classic second-wave ska hits.
Reviewed by Ian Hallagan
Review Genre(s): Reggae