February 2nd, 2016
Title: Carnival Caravan
Artist: Nation Beat featuring Cha Wa
Label: Nation Beat Music
Formats: CD, MP3
Release date: July 31, 2015
Nation Beat is a Brazilian American collective that combines their cultural mix of music with the help of New Orleans band Cha Wa, who perform "Mardi Gras Indian funk." Together, they create irresistible Mardi Gras music on the EP, Carnival Caravan. The two bands stay true to traditions, even dressing in Carnival costumes as can be seen in the following promotional video: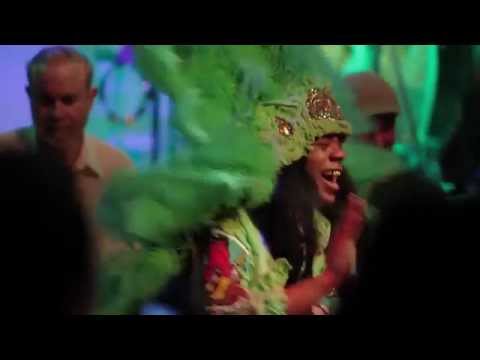 Featuring Brazilian artist Silverio Pessoa, "Vou Vantar Esse Coco" is filled with brisk Portuguese lyrics that lie somewhere between rapping and singing. With its smooth harmonies, the chorus is a bit slower than the faster paced verses with a Latin beat. "Casa Diamante – Sew Sew Sew" includes electric guitar, adding a rock aspect to the otherwise Brazilian percussion and music.
"Golden Crown" is about the big chiefs that are famous during New Orleans Mardi Gras celebrations. With extensive use of call and response, the song emphasizes the interactive and performance-based aspect of the two bands. The EP ends with a cover of the classic "Liza Jane," featuring a full complement of New Orleans brass, including trumpet and tuba solos, and Caribbean percussion.
Carnival Caravan is the perfect Mardi Gras soundtrack, full of fun, traditional themes and beats that combine music and culture from the two of the most pivotal centers of Carnival today: New Orleans and Brazil.
Reviewed by Anna Polovick
Review Genre(s): African American Culture & History