March 3rd, 2015
Title: Warning Shot
Artist: Mississippi Heat
Label: Delmark
Formats: CD, MP3, LP
Release date: September 16, 2014
Though the band's name might imply blues from deep in the Delta, Mississippi Heat is a Chicago-based outfit led by master harmonica player Pierre Lacocque, who was raised in Brussels and first encountered African American music on the radio. When he was 16, his family relocated to Chicago where Lacocque soon became enraptured with the city's storied blues tradition. Though his life initially took a different path, he eventually returned to his true passion—playing the blues harp—and formed Mississippi Heat in 1991. Since then, the band has gained recognition for keeping traditional blues alive, playing music that's  "steeped in Chicago's golden sounds of the 1950s," drawing inspiration from the likes of "Muddy Waters, Howlin' Wolf, Jimmy Reed, Jimmy Rogers, all the great harp players… Big and Little Walter."
For their latest venture on Delmark Records, Mississippi Heat offers 14 original tracks by various members of the group plus 2 covers, including Hank William's "Your Cheatin' Heart" performed as a swing-boogie with harmonica solo, and a soulful, fuzzed out version of Ruth Brown's "I Don't Know," convincingly sung by Inetta Visor. Inetta also shines on the Calypso-tinged rhumba "Come to Mama" which references Big Walter Horton's "La Cucaracha," and on the rollicking title track that also features guitarist Carl Weathersby: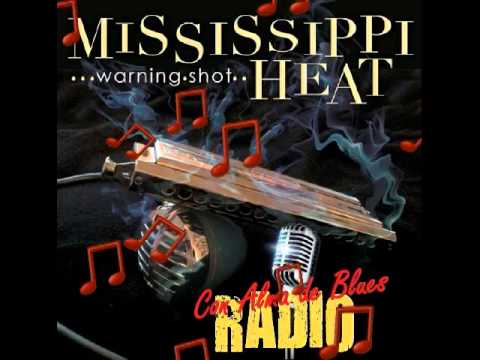 One of the albums highlights is "Yeah Now Baby," a perfect combination of Delta blues and modern sensibilities, driven relentlessly by Kenny Smith on drums and Lacocque's harp, while Michael Dotson's moaning vocalizations bring it down home. Another is "Recession Blues." Though the title might call to mind the mournful style of a 1930s acoustic blues lament, instead the track is an upbeat juggernaut displaying the talents of Ruben Alvarez on percussion and Sax Gordon on saxophones, along with plenty of rocking guitar and harmonica licks.  Closing with "Working Man," Visor and Lacocque provide an effective call and response between vocals and harp, punctuated by Neal O'Hara on keys, Giles Corey and Michael Dotson on guitars, and Brian Quinn on bass.
Warning Shot provides a fresh sound, drawing from traditional blues tropes but with significant twists and turns along the way. By incorporating vintage electric sounds, Latin beats, honking R&B saxophones, and jolts of rock 'n' roll, Mississippi Heat achieves an inspiring blend of the old and the new, keeping listeners satisfied with stellar musicianship and arrangements that will have appeal far beyond the traditional blues audience.
Reviewed by Brenda Nelson-Strauss
Review Genre(s): Blues