October 3rd, 2011

Title:  Le Freak: An Upside Down Story of Family, Disco, and Destiny
Author:  Nile Rodgers
Publisher:  Spiegel & Grau
Formats:  Hardcover, eBook
Release date:  October 18, 2011
-
The autobiography of famed musician/songwriter/producer Nile Rodgers' is not only compelling, but skillfully written. I guess that should not come as a surprise.  Rodgers has been interviewed countless times and is a consummate and engaging story teller—no doubt this facilitated the flow of stories from his pen.  His determination and perseverance, his upbeat outlook on life, and his genius shine through on every page.
Born to a young teenage mother, Rodgers spent his formative years bouncing back and forth between New York and Los Angeles.  One of his biggest influences was his Jewish stepfather, Bobby Glanzrock, who Rodgers describes as "a black man in a white man's body . . . a beatnik Ph.D." who idolized black avant-garde jazz musicians and whose "observations had angles and perspectives that would make Miles Davis contemplate his own sense of cool." Unfortunately Bobby was also an addict, and eventually his mother Beverly succumbed to the same fate, hence Niles extremely unstable upbringing where "nodding junkies" were the norm.  But the family also bonded through a love of literature, art and music which provided the intellectual stimulation on which young Nile thrived.
Throughout the book, drugs supply the steady backbeat to the story.  As a teenager in L.A., Rodgers develops a habit of sniffing glue, drops acid with Timothy Leary, and later, when money is flowing freely, blows through several mountains of cocaine.  There are the usual tales of rock star exploits and excesses, such as the period when Rodgers holds court every night from a stall in the women's restroom at Studio 54, but these are told with a great deal of reflection and humor, not braggadocio.
The real interest, of course, lies in the music. By 1970, at the age of eighteen, Rodgers is back in New York playing in a jazz-blues-rock fusion band call New World Rising, while also studying jazz guitar with Ted Dunbar and Billy Taylor, and classical guitar with Julio Prol.  He played gigs around Greenwich Village (including a jam session with Jimi Hendrix), learned how to play R&B during a stint in the house band at the Apollo Theater, and later perfected his funky "chunking" style of guitar playing on the Chitlin' Circuit. It was during one of these Chitlin' gigs that he met bassist Bernard Edwards, his long-time collaborator.
Nile and Bernard soon found themselves in the middle of an exploding New York club scene, where "sex, drugs and disco" became the new battle cry. A brief stint in London and exposure to Bryan Ferry's group Roxy Music led Rodgers to develop a new concept for a band he describes as "sophistofunk rock."   After being rebuffed by several label execs who were not ready to accept a black funk-rock band, Rodgers and Edwards reworked the master plan, resulting in Chic, whose sound was "jazz-inflected groovy soul" with Euro-influenced melodies and lyrics. Their first song "Everybody Dance," constructed of a series of different instrumental sections highlighted with "breakdowns," became an overnight sensation, quickly followed by another megahit "Dance, Dance, Dance."
'Nard and Nile went on to become disco's version of Lennon and McCartney, and in the ensuing chapters Rodgers lays out the songwriting formula that led to their success, beginning with the DHM or "Deep Hidden Meaning" of each song. Their careers skyrocketed, only to come crashing down overnight following the Disco Sucks campaign that culminated in Chicago on July 12, 1979, with Disco Demolition Night led by white deejay Steve Dahl. Shortly thereafter the Sugarhill Gang exploded onto the scene with "Rapper's Delight," based on a sample of Chic's "Good Times," which proved that disco was alive and well, albeit within an entirely new urban Black art form.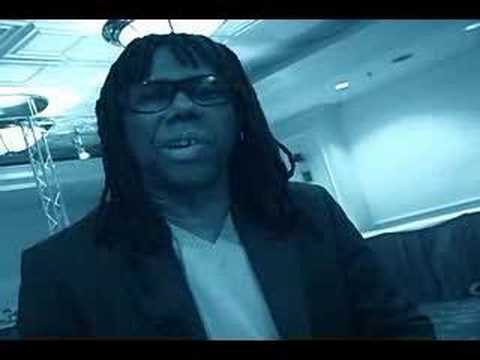 The latter half of the book, or "Second Wind," is an account of Rodgers producing credits, ranging from Sister Sledge's "We are Family" to Diana Ross' comeback album Diana to Duran Duran's "The Reflex" to David Bowie's Let's Dance, which allowed Rodgers to "play by different rules that applied only to white rockers"—that is, he was freed from the confining boundaries of R&B that applied to most black musicians within the record industry.  And, of course, a good many pages are devoted to one of his most famous liaisons, as Madonna's producer for Like a Virgin, the biggest record of his career.
Now 59, Nile Rodgers is still very active as a producer and musician. He is currently working on a musical Double Time, performs with a new Chic line-up, and blogs about his current struggle with cancer.  But if there is one thing to be learned from this book, it's that Nile knows how to overcome obstacles. He vows to "keep on pushing In the Short Term," and we'll be right there with him, hoping for many more "Good Times" and great music.
Reviewed by Brenda Nelson-Strauss
Review Genre(s): Popular, Rock, and Misc.,Rhythm & Blues, Soul, Funk