November 3rd, 2014
Title: The Complete SAR Records Recordings
Artist: L.C. Cooke
Label: ABKCO
Formats: CD, MP3
Release date: July 29, 2014
In January of 1964, L.C. Cooke was preparing his solo debut album on SAR Records. He had been a member of the doo-wop group, Johnny Keyes and the Magnificents, and had  released a few singles. L.C. also happened to be the younger brother of SAR Records founder and firmly established recording artist, Sam Cooke. His debut album, however, would never be released—in 1964, that is. After the album was delayed, his beloved brother was killed in a motel in December of that same year, further casting this body of work into the darkness—until now. The Complete SAR Records Recordings is that debut album, with eight additional tracks, released fifty years later. Liner notes are provided by Sam Cooke biographer and noted writer Peter Guralnick, and contain a complete list of session musicians (Eddie Kendrix, Earl Palmer, Billy Preston, Harold Battiste, and Bobby Womack, among others).
The first ten tracks of this collection represent the album that was slated to be released in 1964. While all of these songs have been previously released as singles, they have never been released together, as was intended, in album format. All ten were produced by the late, great Sam Cooke, and superbly capture what is great about L.C. Cooke, his talent, and his artistry. These tracks include "Put Me Down Easy," the upbeat "Take Me For What I Am," and the smooth "Sufferin'" and "Teach Me."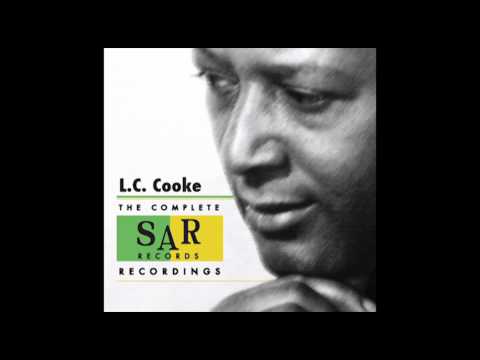 The additional eight tracks in this compilation give even greater insight into L.C. Cooke's ability and his career. Among them are four more tracks produced by Sam Cooke, including the previously unreleased "The Love," "Miss Sally," and "Gonna Have a Good Time," as well as the single version of "Put Me Down Easy" and a brief clip of "session chatter" from a recording session for "Gonna Have A Good Time." Also included are three previously released singles: "If I Could Only Hear" (October 1959), "I'm Falling" (May 1959), and "Do You Wanna Dance (Yea Man)" released in March 1965.
Overall, this collection highlights the talents of L.C. Cooke and introduces many of us to an artist we knew little about.
Reviewed by Christina Harrison
Review Genre(s): Rhythm & Blues, Soul, Funk