April 1st, 2015
Title: Consultation with Tubby
Artist: Jefferson Street Parade Band
Label: Self-released
Formats: CD, MP3
Release date: February 13, 2015
The idea behind the Jefferson Street Parade Band started in the winter of 2008, several months after Ben Fowler finished his studies in jazz drumming at the Indiana University Jacobs School of Music. He'd been  touring with a few rock bands, but felt tired of smoky bars and predictable music, and he particularly  missed the horns he had always played with in jazz quintets.  He decided to reach out to horn players and other musicians he knew and proposed the idea of starting a band that could march in the streets and perform. The Jefferson Street Parade Band started officially playing in the spring of 2009, and though the members have shifted and changed over time (at most there have been 16 players), they have continued to create music with Fowler as their leader.
The Jefferson Street Parade Band released their first album, Juntos, in April 2012, which featured a multitude of different styles intertwined—from Latin cumbias to West African rhythms. Their latest album, Consultation with Tubby, is no different. Fowler, who describes himself as "a rock and roll kid from Indiana with a jazz education," says that while some bands immerse themselves in a certain culture's music, the Jefferson Street Parade Band takes a different approach and "amalgamates it all." Consultation with Tubby does just that, drawing from many genres and featuring both covers and original songs.
The opening track, "Party Time Excellent," has a very fitting title: the energy never seems to die down as the band blasts you with funky horns, an electrifying guitar soloby Zach Frasier, and a soulful saxophone feature by Peter Hanson. That's not even mentioning the solid foundation from the drumline or the soulful piano (played on a melodica in the live performance below). Somehow these many parts work together seamlessly, making a musically complex piece seem effortless and fun, as seen in the live version on WTIU below: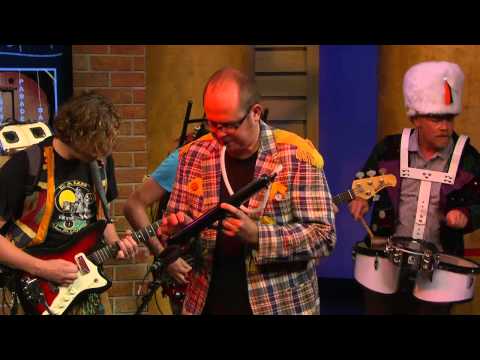 "Canto de Xangô" is a Brazilian song originally written by Baden Powell. Arranged by Jefferson Street Parade Band bass player Matt Romy, it's transformed into a very smooth piece that transports the listener to a salsa club. Though the percussion gives the song its distinctly Latin beat, the multitude of horns are also given a chance to shine when the drumline occasionally drops out.
Different pieces are composed or arranged by various band members. "Chalk" was written by trumpet player Aaron Comforty. It is one of the more laid back tracks on the album, with an effortless flow enhanced by the beautiful saxophone solo by Durand Jones.
Another favorite on the album is the title track, "Consultation with Tubby," which was written by Fowler, who found inspiration from King Tubby, the godfather of dub reggae. As the wah-ing bass combines with bright horns and unrelenting percussion, the song is undeniably catchy. The instruments start to fade out and create dissonance around two minutes into the track, but even in the chaos the music remains tight, proof of the talent behind these musicians. Everyone then joins in a powerful chorus that concludes the song.
Consultation with Tubby showcases the talent of the Jefferson Street Parade Band, merging many genres together while creating a unique and cohesive sound that is undeniably their own. Though their roster has changed during their six years as a band, there are no signs that they are slowing down. In fact, in many ways it seems like these skilled musicians are just getting started.
Reviewed by Anna Polovick
Review Genre(s): World Music