November 3rd, 2014
Title: Inspiration
Artist: Jason Jackson
Label: Jack & Hill Music
Formats: CD, MP3
Release date: October 14, 2014
New York City trombonist Jason Jackson is not afraid to take risks, or take his time. Inspiration, his first album in thirteen years, was recorded over a period of ten years and in three different studios from Hollywood to New York. The album is well worth the wait. Jackson's trombone skills are impressive, which is not surprising considering he traveled the world touring with Ray Charles for two years, and has been the lead trombonist in the Dizzy Gillespie All-Star Big Band for a decade now. His composition and recording skills are also displayed on the album, with beautiful melodies and catchy rhythms that feel fresh and uplifting.
The opening track, "Brazilian Bop," was inspired by Jackson's travels in Brazil with Ray Charles, which is shown through its Latin percussion. The samba beat is emphasized by shakers throughout the song, and the saxophone solo by Don Oatts is smooth, as he effortlessly flies through many notes. The trombone solos by Jason Jackson and Slide Hampton are just as melodious, tranquil yet executed perfectly.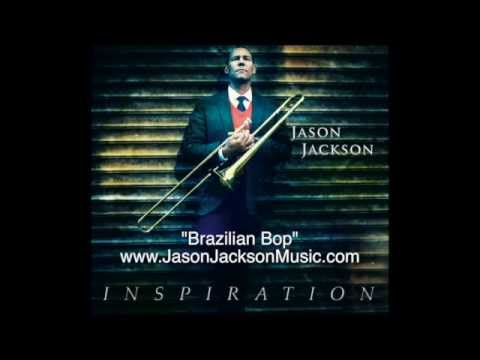 Tracks such as "Salute to Mandela" and "El Husero" also include lively Latin rhythms. "Salute to Mandela," composed by Daniel Jackson, starts with a trumpet fanfare and strings that sound like they should be announcing the arrival of a king from a far off land. Winds and percussion then enter the song, with Greg Gisbert's bright trumpet soaring over an Afro-Cuban Latin pulse. "El Husero," which means "the bull" in Spanish, is much slower and melancholy, with Jason Jackson's trombone muted in the beginning. The song is dark and solemn, but beautiful nonetheless.
Jackson certainly has a variety of inspirations he draws from in the album. "Wake Up Election 2000" is about the outcome of the presidential race between George W. Bush and Al Gore. It has a lackadaisical vibe to it, with a standard swing beat, which reflects Jackson's feeling that people were not "really awake and seeing what was going on" during the election. However, this full orchestra piece ends on a built-up, dramatic note, almost like an ominous cliff hanger.
The final track, "My Friend Sam," was written by Jackson in remembrance of his best friend in high school, Sam Karam, who died in 2001 from multiple sclerosis. Sam's father, Eddie Karam, wrote the arrangement of Jackson's composition. The song is not a mourning track, but a celebration, with an upbeat piano intro by Michael Melvoin and the orchestra in full swing style.
Jackson's undeniable talent on trombone is showcased in "Spring is Here" and "Tenderly," both very slow and gentle songs accompanied by splendid strings and woodwinds. His solos in both songs are infused with soul and meaning, and are flawless in technique.
Inspiration is a delightful listen, and it's a pity that Jason Jackson hasn't stepped out from the background more often. Through arranging, soloing, and composing, Jackson has made it clear through Inspiration that he is a master of jazz.
Reviewed by Anna Polovick
Review Genre(s): Jazz