June 1st, 2012

Title: I Win
Artist: Marvin Sapp
Label:  Verity
Formats: DVD (95 min.), CD, CD deluxe ed. (with bonus DVD), CD limited ed. (2 bonus tracks), MP3
Release date:  April 3, 2012
The all-male gospel vocal group Commissioned launched the careers of several great performers, including powerhouse recording artist Marvin Sapp. He became a solo artist in 1996 but has steadily grown in popularity, achieving crossover success with his 2007 release of "Never Would Made It" on the album Thirsty. His latest album I Win is the first project that he has recorded since the untimely passing of his wife MaLinda in 2010.  I Win is more than a declaration of impending victory; rather, it is also an inspiring testimony of struggle, loss, and survival.
The album opens with an energetic up-tempo song "Teach My Hands to War" that declares that "praise is the weapon" by which believers will realize victory over the negative situations in their lives. This selection establishes the tenor for this project, indicating that success in surmounting hardship is ultimately possible because of a relationship with God. Sapp continues this sentiment in the title track "I Win" that encourages listeners to believe that they are "overcomers" who can conquer anything. This song serves as a positive affirmation that despite life's challenges "I shall win."
The notion of surviving adversity is most intensely expressed in the meditative ballad, "My Testimony," co-written by Sapp and acclaimed songwriter/producer Aaron Lindsey.  Unlike the previous selections, this song vividly articulates the emotional struggle that often accompanies personal hardship. The lyrics state, "I experienced loss at major cost…" and "so if you see me cry it's just a sign that I'm still alive." Fortunately, he tempers this somber reality by acknowledging that "despite the storm and rain/ heartache and pain/ I'm still alive declaring I made through/ I didn't lose…" The beauty and power of "My Testimony" is the way in which Sapp is able to transform a serious subject like personal loss into a point of celebration.  As the backing ensemble repeats the lyrics "so glad I made it, I made it through" Sapp showcases his impeccable ability to connect with his audience and draw them into this musical and spiritual moment. He sings improvised words inviting listeners to reflect on their own trials and triumphs. Through their vocalizations and handclaps the audience showcases agreement with Sapp and joins him in worship.
Following is the official video for "My Testimony":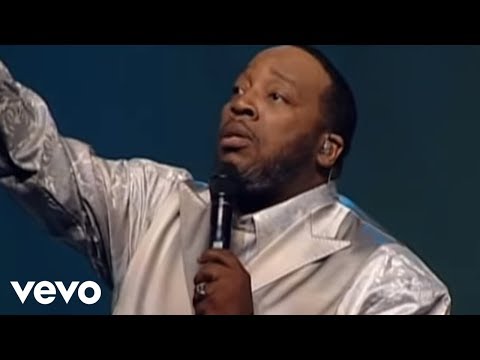 Sapp rounds out this project with a collection of songs that range from newly composed contemporary gospel to popular hymns. For instance, the praise song "Glory" describes the grandeur of God and His presence here on earth as evident in all of nature (like the mountain, valleys, and wind). In a different light, the worship song "Deeper" addresses the need to develop a more personal relationship with God. "The Hymn Medley" features an impromptu selection of songs that are standards in many African American churches across the United States including "I Need Thee Every Hour," and Andraé Crouch's 1970s classics "Bless the Lord," "Can't Nobody Do Me Like Jesus" and "The Blood Will Never Lose Its Power." This trip down musical memory lane transforms this concert into a full-fledged church service with Sapp acting as much in his pastoral capacity as his role as a performer leading listeners in worship.
I Win is a gospel album that moves beyond expected musical conventions to offer an intimate portrait of pain, sacrifice, and success. Drawing on his own experiences, Sapp encourages listeners to have faith and persevere through their toughest of circumstances. Throughout this album, it is evident that he is singing with a genuine conviction. It is that element, that ability to not only sing well, but to truly connect with others, that has made him one of the most popular gospel artists in the past decade.
Reviewed by Raynetta Wiggins
Review Genre(s): Gospel Music and Spirituals