June 1st, 2010
Title: Feed My Soul
Artist: The Holmes Brothers
Label: Alligator
Catalog No.: ALCD 4933
Format: CD
Release Date: March 2, 2010
The Holmes Brothers' music is hard to classify. Put this new CD into your iTunes library and it gets classified as blues.  Guitarist/vocalist Wendell Holmes says they play "American roots music" in a promotional video made by Alligator Records.  Even more than their other albums, this latest from the New York City-based band defies categorization.  There are soul tunes, blues tunes, gospel tunes and some country-western flavors; there are cover tunes and originals.  What results is a very enjoyable musical gumbo, with less edge but more soul than some of the band's previous albums.
The Holmes Brothers―brothers Wendell and Sherman Holmes plus drummer Popsy Dixon―have been playing together since the 1970s, but didn't make their first album (In the Spirit on Rounder) until 1989.  Since then, they've put out a steady stream of recordings and toured tirelessly.  All of that ground to a halt in 2008, when Wendell Holmes was diagnosed with bladder cancer.
Wendell Holmes' successful battle with cancer is central to this album.  The time off the road led to more original tunes than any previous Holmes Brothers album.  Plus, the new songs resonate with reflections and lessons drawn from the cancer experience.  In all, Wendell Holmes wrote or co-wrote 7 of the album's 14 tunes, and Sherman Holmes wrote two others.  The band also covers a tune by the Beatles, "I'll Be Back."  And they present the recording debut of "Something Is Missing" by John Ellison, who wrote the soul classic "Some Kind of Wonderful."
The following is a behind the scenes look at the Holmes Brothers regarding the making of Feed My Soul.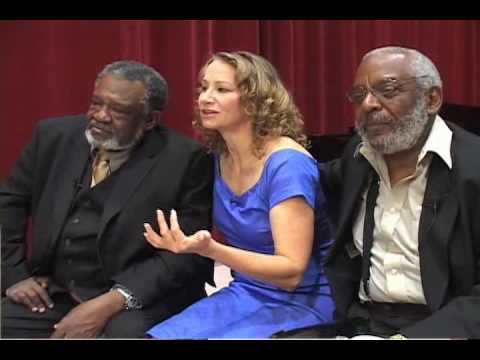 This album has a quiet intensity to it. It sounds comfortable, relaxed and natural.  Singer/songwriter Joan Osborne did a fine job producing it and singing backup on some cuts.  The recording, at Long View Farm Studios in Massachusetts, was well-done, adding to the laid-back feeling.  For example, Wendell Holmes' guitar solos are generally panned right, not placed in your face in the center, and are somewhat back in the mix. In other words, the solos are in balance with the band and sounding like if the whole band is together in front of you, playing together.  It sounds and feels like a Holmes Brothers live performance, which is not to be missed.
The vocal harmonies are also a highlight of the album, as on all Holmes Brothers recordings.  These guys are older and maybe a little less edgy, but they still make beautiful harmonies and still have strong pipes.
The whole album flows very nicely, but there are stand-out cuts:  "Fair Weather Friend"; "Living Well Is the Best Revenge"; a cover of "Pledging My Love" by Don Robey and Ferdinand Washington; the cover of the Beatles' "I'll Be Back"; and the title track.  Here's hoping the Holmes Brothers remain healthy and vital and turn out some more recordings!
Reviewed by Tom Fine
Review Genre(s): Blues,Folk and Country,Gospel Music and Spirituals