February 2nd, 2011
Title: Expektoration Live
Artist: MF Doom, featuring Big Benn Klingon
Label: Gold Dust
Format: CD
Release Date: September 14th, 2010
-
MF Doom has been at the forefront of underground hip hop for the past few years with his innovation and no frills approach to production, sampling, and emcee style.  He has released records with Dangermouse, Madlib, and even dropped a record on Adult Swim's label.  His career reaches as far back as 1988 with his group KMD.  In those good old days of hip hop, he went by Zev Love X and partnered up with his brother DJ Subroc.  KMD was soon signed to Elektra, but tragedy struck when Subroc was killed in a car accident.  The week of his brother's death, Elektra dropped the group and refused to release their record due to controversial artwork.  Doom went into a bout of depression, but during that time KMD's album was bootlegged and Doom began his rise to fame through word of mouth and mix tape hand-offs.
In 1997, Doom began slowly creeping back into the world of hip hop.  He released Operation: Doomsday in 1999 under his new moniker and it was a hip hop masterpiece, with beat production that was loose and grimy in all the best ways. The lyrics were  also full of originality, with esoteric references to things not commonly spoken about in hip hop music, for example "Quick to whip up a script like Rod Serling."  From there Doom's career skyrocketed with releases such as MM Food, Madvillainy (with Madlib), Special Herbs Volumes (instrumental series), Monster Island Czars, Viktor Vaughn, King Geedorah, and many others.
Expektoration is a live album recorded in New York on September 14th, 2009.  A strong, live hip hop album is a hard thing to deliver, but I must say MF Doom and Big Benn Klingon have succeeded with hard hitting, fresh, and impressive tracks free from overwhelming hype men and distorted lyrics.  Doom is a veteran when it comes to rocking a crowd, and you can hear it.  His lyrical sense is close to the original album versions, but he plays with his syllabic use and improvises verses from time to time.
The album consists of three tracks.  The first runs roughly thirty minutes and primarily consists of tracks from MM Food and Madvillainy.  There are some incredible samples used throughout the album that play off of the Klingon language and the spitting that occurs while trying to speak it.  It gives the album a great vibe and fits right in with Doom's use of samples pertaining to interestingly strange subject matter.  The Intermission is just samples of people pronouncing words in Klingon; it is incredible.  The third track or "Act 2″ consists primarily of material from Operation: Doomsday.  We also get to hear Doom dive into his alter ego known as King Geedorah on "The Fine Print".
Following is the video of "Beef Rapp" (courtesy of Gold Dust):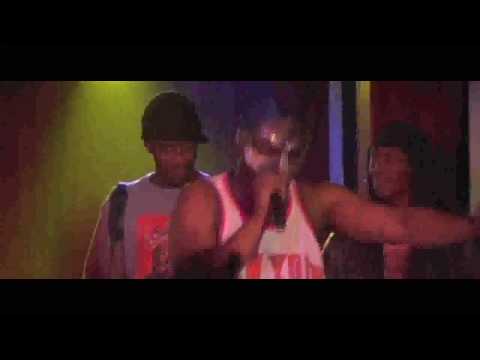 Expektoration gives us all a chance to hear MF Doom in his element as the "Prolific Madman" on the microphone.  The album is a true, raw, and listenable live hip hop album worthy of attention from all ears everywhere.  Another solid release in the world of hip hop from Gold Dust Records.
Reviewed by Jason Cyrus Rubino
Review Genre(s): Rap and Hip-Hop