The prolific Eric Bibb released two projects in 2012, bringing his total discography to around 35 albums over a career spanning four decades.  Bibb was recently named Acoustic Artist of the Year by the Blues Foundation in Memphis, and the following albums prove he deserves this honor.
Title: Deeper in the Well
Artist:  Eric Bibb
Label:  Stony Plain
Formats: CD, MP3
Release date:  March 27, 2012

Eric Bibb continually digs deeper into the wellspring of American music for inspiration and never fails to delight his audience. For Deeper in the Well, he took his "satchel of new songs" down to Breaux, Louisiana, where he assembled an all-star group of roots musicians including Dirk Powell (of the Cajun group Balfa Toujours) on banjos, fiddle, mandolin, accordion, and upright bass; Cedric Watson (of Bijou Creole) on fiddle and backing vocals; Danny Devillier on drums and tambourine; Christine Balfa on Cajun triangle; and Grant Dermody on harmonica. Additional guests include Michel Pepin and Michael Jerome Browne playing guitar, fretless gourd banjo and mandolin on a cover of Taj Mahal's "Every Wind in the River," and Jerry Douglas playing Dobro on "In My Time."
The opening track "Bayou Belle" sets the scene, with Watson weaving his Cajun fiddle through the melody:
This is followed by a cover of Harrison Kennedy's blues classic "Could Be You, Could Be Me," which segues into a rousing string band arrangement of "Dig a Little Deeper in the Well," which Bibb first heard on a Doc Watson recording. Other highlights are an arrangement of the traditional song "Boll Weevil" by Dirk Powell and Grant Dermody, and Bibb's "Sinner Man" which allows all of the instrumentalists to shine.
As with many of Bibb's albums, he sets a modest pace, content to let his music flow from one track to the next. This creates a very cohesive blend, yet it's far from monotonous. His approach to the music tends to focus listeners' attention on the subtleties of the performance and the ensemble, without resorting to any overt displays of virtuosity. One would think that the group has been playing together for years, and let's hope they reunite on future projects! The album is accompanied by a 20-page booklet with song lyrics and liner notes by Bibb.
Title: Brothers in Bamako
Artist:  Eric Bibb and Habib Koité
Label:  Stony Plain
Formats: CD, MP3
Release date:  November 6, 2012

Habib Koité and Eric Bibb are both products of musical families, and brothers in their commitment to pass on their legacies.  In Bibb's case, his earliest influences were his father, folk musician Leon Bibb, and godfather Paul Robeson. Likewise, Malian musician Habib Koité grew up watching his parents perform and their music "rubbed off on me." The two first collaborated 10 years ago while recording the Putomayo album Mali to Memphis. Recently, Bibb made his first trip to West Africa to record with Koité in Bamako. Together, they explore roots music from two continents.
The album initially alternates between songs composed and performed by each musician, but by the third track, "Needed Time," the brotherhood solidifies and a true partnership is formed, with the two creating and performing four songs together in a mix of French and English: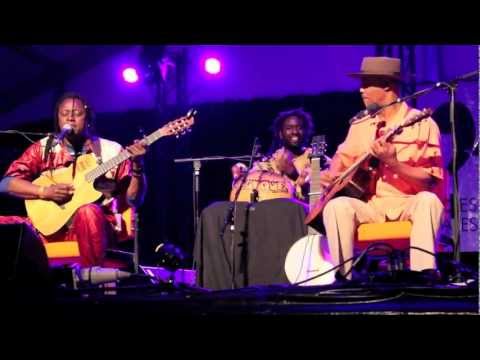 An attempt is also made to match sounds and timbres. Bibb performs on a variety of acoustic instruments: 6 & 7 string guitars, 6-string banjo, baritone guitar, and baritone, soprano and B-string ukuleles. Koité plays an acoustic nylon string guitar, 6-string banjo, and 8-string ukulele. Percussion is added by Mamadou Kone, while Olli Haavisto contributes pedal steel guitar on a cover of Dylan's "Blowin' in the Wind."  The result is an intimate coffee house style performance, with the two musicians blending in a way that denotes a general sense of bluesy folk music, but with an underpinning of rhythms and harmonies that are unmistakably West African. Even though Koité performs on banjo and guitar, his use of the pentatonic scale and plucking style are more suggestive of the Malian four-stringed kamale n'goni.
Brothers in Bamako will be enjoyed by anyone interested in world or roots music, especially those who enjoy acoustic string instruments.  The album is accompanied by a handsome booklet with song lyrics, photographs, and liner notes by Etienne Bous.
Reviewed by Brenda Nelson-Strauss