April 2nd, 2012
Title: Elmatic
Artist: Elzhi & Will Sessions
Label: The Jae.B Group
Formats: CD, LP
Release Date:  May 10, 2011
Coming together for a tribute to easily one of the top ten rap albums of the 1990s, Elzhi and Will Sessions attempt to replicate the intense delivery of Nas's Illmatic (1994) by using the same samples on their mixtape, albeit with a live instrumental twist. With a diverse background as a hip-hop/soul/funk party/backing band, Will Sessions has an impressive resume well-suited to Illmatic's jazzy and funky rhythm samples. Nor can we ignore Slum Village's Elzhi, another established artist who has also collaborated with Random Axe's Guilty Simpson, among others. It's safe to assume, then, that this amount of talent is an effective tribute to Nas's classic, right?
Will Sessions' attention to detail is obvious right from the start as Elmatic kicks off with "The Genesis." There's a great focus on needing to stay true to the original beats, but what's nice is that they aren't set in stone. Instead of keeping with the sounds of the city and the sample speech, gritty keyboards and drums crescendo before going into the original Illmatic beat. It's crazy how "Detroit State of Mind" sounds exactly like "N.Y. State of Mind." The instrumentation sounds just like the Nas version, and if Nas had done the same rap over the two backing tracks it would be hard to tell the difference. On tracks like "The World Is Yours," "Life's A Bitch," and "One Love," where there's a greater emphasis on jazz-oriented samples, Will Sessions shines. The tracks are extended to allow for improvisation, while simultaneously not deviating too far from the original material. This is done for just the right amount of time, as it gives a good amount of space for the backing band to express themselves musically without going overboard. Overall, the abilities of Will Sessions fits perfectly with the original material.
Following is the official video for "It Ain't Hard To Tell":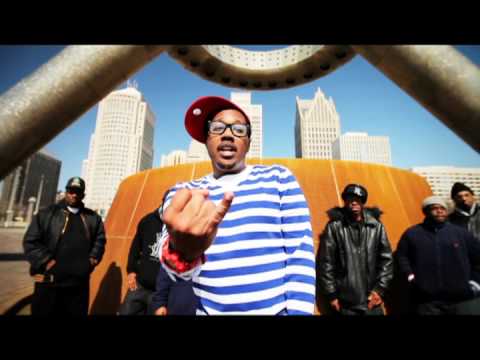 It is now that we get to the most fundamental part of any rap album: the lyrics. What made Nas's Illmatic such a respectable project was not just beats, but the lyrics. Each song flowed with sincerity and amazing verbal ability; each song tells a story that intertwines with the other. Therefore, it's hard not to be critical of a tribute, but Elzhi definitely has the lyrical ability to deliver, and deliver he does.  The track that stands out the most, namely "Detroit State of Mind," deserves first mention. Just like the Nas original set in Queens, "Detroit State of Mind" details the everyday life of living in inner city Detroit and is delivered strongly, most notably through the following verse:  "I knew this fly chick, pretty right, she was my type that cracked shit / Wasn't hyped, she fell in love with the pipe / She had dreams, of being the next D. Ross or the Supremes /Overdosed in the lot, between the plot and the schemes."  "Memory Lane" is just as good, as that necessary sincerity is once again replicated, while the topic shifts focus to Maurice Malone's Hip-Hop Shop.  On this track Elzhi brings back the memories of the Detroit hip hop scene, including witnessing early performances of artists like Eminem back when they were just gaining popularity. Why is Elzhi so effective in both showing his love for Nas while also bringing something unique to the album? Like the original instrumentation provided by Will Sessions, Elzhi doesn't simply repeat what Nas initially laid out in Illmatic. Instead, Elzhi makes Elmatic his own, unique version of the classic album by giving it a Detroit twist.
Fans of this album will also be interested in Will Sessions' companion soundtrack album The Elmatic Instrumentals—a great fusion of jazz, funk, and hip hop (issued by Fat Beats in September, 2011).
Reviewed by Ian Hallagan
Review Genre(s): Rap and Hip-Hop