Title:  Scènes D'Enfants
Artist: Daniel Clarke Bouchard
Label: ATMA Classique
Formats: CD, MP3
Release date: November 2013
Canadian wunderkind Daniel Clarke Bouchard, who recently turned 14, has already garnered his share of prestigious awards and media attention (he recently displayed his showmanship on the Ellen DeGeneres Show). His debut album, released last fall, is appropriately titled Scènes D'Enfants.  Bouchard selected the majority of the album's 12 tracks from the standard classical piano repertoire, focusing on those works or movements that represent "the childhood spirit." As one might guess, selections from Schumann's Kinderszenen op. 15 are included, as well as "Doctor Gradus ad Parnassum" from Debussy's Children's Corner: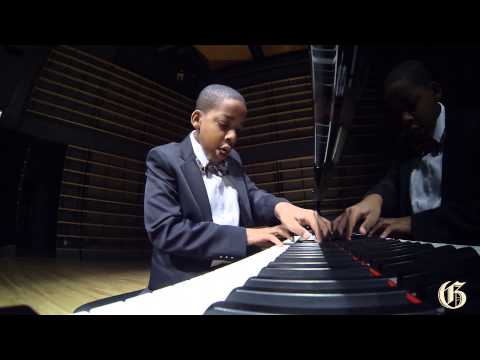 Opening with Mozart's Fantasia for 2 Pianos on the Variations "Ah vous dirai-je, maman" (aka "Twinkle Twinkle Little Star"), Canadian pianist/composer Oliver Jones joins Bouchard on this lighthearted duet that sets the tone for the album. Jones, also renowned as a jazz pianist, takes significant liberties, venturing off into a jazz improv midway through the work that interjects a delightfully contemporary twist. At the age of nine, Bouchard participated in Jones' master classes at the Orford Arts Centre, where they first shared a piano onstage. Jones became one of Bouchard's mentors, so it's fitting that he was invited to participate on this project. The two come together again on the closing track, this time a jazzy rendition of La Grande valse Fofolle by the late Montreal composer Claude Léveillée.  On the remaining tracks, Bouchard tackles Mendelssohn's Rondo Capricio op. 14 (selected because the composer wrote it at the age of 15); Beethoven's Rondo & Capricio en sol majeur op. 129 (aka "Rage Over a Lost Penny") which he first heard performed by another idol, Evgeny Kissin; and additional works by Schubert, Haydn, and Mozart.
Bouchard currently studies piano at the Conservatoire de Musique de Montreal, and is starting to venture into jazz. With his gregarious personality and prodigious talent, I can't wait to see what he'll do next. This album would be an excellent choice to share with budding pianists.
Reviewed by Brenda Nelson-Strauss