Title: Awaken, My Love!
Artist: Childish Gambino
Label: Glassnote Ent. Group
Formats: CD, Digital, Limited Ed. virtual reality vinyl
Release date: December 2, 2016
2016 was a good year for actor/musician/writer Donald Glover.  He was cast to fill Billy Dee Williams's shoes as Lando Calrissian in an upcoming Star Wars film, his hit FX series Atlanta ranks at the top of many critics' "best of" lists, and his newest musical release as Childish Gambino, Awaken, My Love!, may be a career landmark.  At first listen, what is most striking about Gambino's newest album is its departure from the low-key rap flows and electronic textures that characterized his previous work.  Rather, Awaken My Love! is steeped in '70s funk, from its close-up face cover image (reminiscent of Funkadelic's Maggot Brain) to the guitar-heavy sounds that fill the disc. Most notably of all, Gambino generally departs from rapping in favor of singing. The best part about this is that he is quite good—maybe a better singer than rapper, in fact.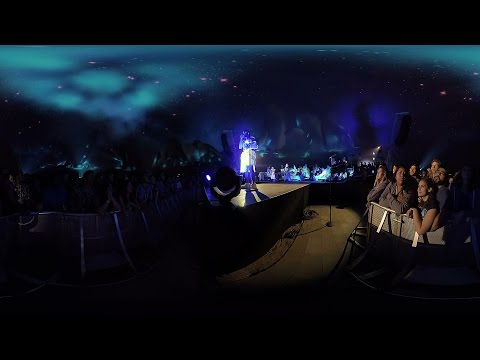 The album's opening track, "Me and Your Mama," draws heavily from the P-funk playbook, pulling more from Funkadelic than the Parliament side of things, a move that few groups influenced by the seminal act successfully execute as well as Glover. There other clues to the contents of Glover's record collection throughout this disc as well. For instance, "Boogieman" is reminiscent of early '70s Frank Zappa, from subject matter to sound—the song easily could have appeared on the composer/guitarist's quintessential 1974 release Apostrophe.  "Redbone" borrows heavily from Prince's synth-heavy Minneapolis sound and the clavichord-based "Baby Boy" might have been an outtake from Sly & The Family Stone's There's a Riot Going On.
Childish Gambino is not simply borrowing from others' musical influences, however.  Songs like "Riot" draw together classic soul influences with booming bass and breakbeats, and "California" is an ironically sunny slow jam, pulling a bass line from classic AM radio, but adding drums and assorted oddball percussion and wind instruments foreward in the mix. These stylistic moves highlight its characters life-changing attempts to deal with their dysphoria.
This album would be worth listening to for its sound alone—synthesizers, drums, and guitars weave together what is certainly one of the most sonically interesting releases of the past several years—but it is also notable that Glover shifts his lyrical tone.  One of the issues with his work as Childish Gambino is that at times his rap has been difficult to believe, alternating between too serious and too silly, with his best moments as a rapper usually coming as a feature on someone else's track (see "Favorite Song" on Chance the Rapper's breakthrough 2013 Acid Rap mixtape).  However, on Awaken My Love!, Glover maintains his sense of humor while finding a way to make compelling statements on relationships, society, and his characters inner emotional lives.
Glover has finally found the perfect balance: writing solid songs inflected with a lyrical and sonic sense of humor without getting too jokey.  It's a shame that this record will probably be overlooked as one of the best of the year due to the sheer number of blockbuster releases in 2016.  In retrospect, however, it is likely that Awaken, My Love! will represent a reinvention from an artist who will no doubt be a defining figure of his generation.
Reviewed by Matthew Alley