Title: Ondatropica
Artist: Ondatropica
Label: Soundway Records
Formats: CD, 3xLP, MP3
Release date: July 27, 2012

Conceived by Mario Galeano (of Frente Cumbiero, Colombia) and Will Holland (of Quantic, UK), sponsored by the British Council, and released by the British label Soundway Records, Ondatrópica is probably the most important album in Colombian music to come out in 2012. This project is a carefully selected gathering of "Golden Era" tropical Colombian music legends and the finest "fresh bloods" of contemporary Colombian music. Recorded and mixed in the mythical Discos Fuentes studios using live and analog recording techniques, Ondatrópica establishes a generational bridge that binds musical genres, arrangements, and performers from two very different eras.
Clearly inspired by the classic sound of tropical Colombian music from the latter half of the 20th century, Galeano's and Holland's compositions reframe popular musics from that era into a new hybrid sound. Rhythms like porro and different kinds of cumbia, descarga, bomba, ska, Afrobeat, guaracha vallenata, boogaloo, hard rock, and hip hop, among other genres, are blended together by an all-star ballroom orchestra, who put the energy and warmth of live-recorded sound at the forefront.
Featured on the album are many of the biggest names in Colombian tropical music from the 1950s through the 1980s, like Michi Sarmiento, Fruko, Markitos Mikolta, Aníbal Velásquez, Alfredito Linares (Peru) and Pedro "Ramayá" Beltrán, who join top contemporary musicians such as Eblis Álvarez, El Chongo, Nidia Góngora, El Profe, Pedro Ojeda, Marco Fajardo, and Esteban Copete. They define anew the relevance of this musical tradition by showing the common threads that link the present day generation to musicians who started recording sixty years ago.
This nineteen-track album opens with "Tiene sabor, tiene sazón" ("It has taste, it has spice"), a kind of Colombian Afrobeat-rumba, driven by a twelve-piece ensemble which includes multi-layered vocals, percussion, bass, a brass section, two electric guitars and a Wurlitzer piano.  "I ron man" (track 3), a cumbia rendition of Black Sabbath's "Iron man," is one of the most interesting songs. "Ron" is the Spanish word for rum and the chorus repeats "El ron se acabó!" ("The rum is over!") as a kind of fatalistic celebration of the party spirit that this music inspires. "Rap-maya" (track 15) is a masterful cumbia/hip hop duet of traditional caña de millo flute and beat boxing, performed by Pedro "Ramayá" Beltrán and El Chongo.
Following is the official video for track 4, "Suena" ("It Sounds"), with a guest performance from French/Chilean rapper Ana Tijoux: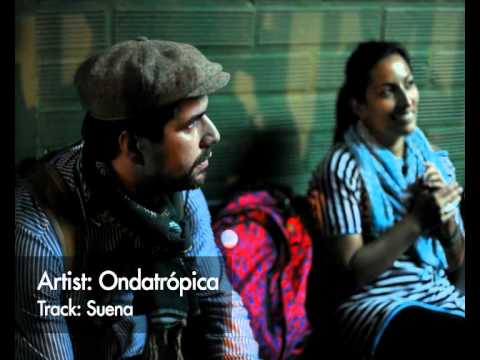 Ondatrópica was recorded in January 2012, using quarter-track open reel tapes at Discos Fuentes studio in Medellin, under the supervision of Mario Rincón, master engineer and developer of the Fuentes sound. During the production process, only minimal overdubs were used in order to maintain the fidelity of a live recording, the primary method used in the early days of the Colombian recording industry. For live recording to sound professional, though, top-notch musicians are required since every mistake requires starting the recording process all over. But excellent performers are what this record has plenty of. Here is the "making of" album trailer: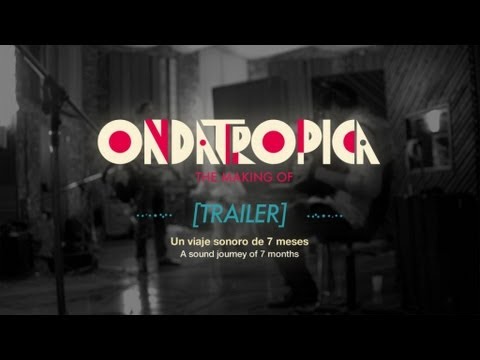 The album comes in a lively and colorful case with a 30-page booklet, which includes plenty of photographs, as well as bios of 24 of the 42 musicians that participated in this production. Ondatrópica represents a whole new chapter of Colombian music, not only by reminding us of the mastery of old-school music innovators, but also taking it further into a modern Caribbean/global sound. It is an opportunity for younger generations to recognize and understand that Colombian and Caribbean cultural heritage is not a thing of the past, but is alive, vibrant, and in permanent renovation. This is a must-have for Latin American music fans.
Reviewed by Juan Sebastián Rojas