February 2nd, 2011
Title: Carolina Chocolate Drops/Luminescent Orchestrii
Artist: Carolina Chocolate Drops/Luminescent Orchestrii
Label: Nonesuch Records
Formats: CD, MP3
Catalog No.: 526130
Release Date: January 25, 2011
–
Collaboration on this album by the Carolina Chocolate Drops and Luminescent Orchestrii stemmed from an impromptu jam session at the Folk Alliance Festival in Memphis, TN.  The seven musicians played one of each band's hits ("Knockin'" and "Hit 'Em Up Style"), which later formed the core of this EP.
Luminescent Orchestrii (LO), formed in 2002, is an unlikely alliance of circus composer, old-time fiddle player, experimental theater composer, and free jazz bassist.  The New York-based band combines Romanian gypsy melodies and Appalachian folk fiddle with elements of funk, punk, and hip-hop—all the while transmitting a spirit of "traditional" music.  The Carolina Chocolate Drops' (CCD) music is no less a product of hybridity.  The trio started with a pure traditionalist approach, making a weekly pilgrimage to Mebane, NC, to learn from an aged old-time fiddler.  When they struck out on their own, the "Drops" quickly gathered followers and musical influences.  The group acknowledges the historic roots of black string-band music, but the players are passionate about constant transformation and renewal of their music from other musical traditions such as Gaelic, blues, jazz, and hip-hop.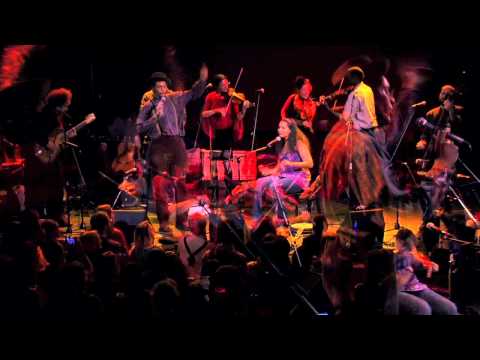 The first track on the EP, "Short Dress Gal," reimagines Sam Morgan's New Orleans jazz tune from 1927.  Dom Flemon and Rhiannon Giddens's (both of the CCD) vocal style on the choruses remains relatively faithful to Morgan's, but the ensemble trades in the horn section of the 1920s for fiddle, electric guitar and bass, and vocal beatboxing.  On the verses, Flemons delivers in a straightforward hip-hop style.  The final bridge and chorus give a nod to the style of the Morgan original, as the band members cut loose in vocal imitations of a New Orleans-style horn section.
The LO leads the second track, "Escoutas (Diga Diga Diga)."  A fiddle intro sets a "traditional" stage in the opening bars, then the guitar and banjo transform the mood with a driving rhythm that is soon picked up by the voices.  This guitar and banjo rhythm—together with Adam Matta's beatboxing—sustains the ensemble as the vocalists trade (Romanian?) rhythmic chanted lyrics with the fiddles who repeat and spin out their opening figure.  The track fades with Matta vocalizing a "trumpet" solo over hand claps from the band.
The third and fourth tracks recreate the performance that brought the two bands together at the Folk Alliance Festival.  "Hit 'Em Up Style" first appeared on the CCD's 2010 album Genuine Negro Jig, and is a cover of R&B artist Blu Cantrell's single from 2001.  "Knockin'" first appeared on LO's 2005 album Too Hot to Sleep.  Both tracks maintain the bands' tendencies for stylistic eclecticism with a story-telling spirit that makes their music sound age-old and fresh at the same time.
Reviewed by Paul E. Killinger
Review Genre(s): Folk and Country