February 1st, 2012
Title: Bones for Tinder
Artist: Justin Robinson & the Mary Annettes
Label: Five Head Entertainment
Formats: CD, MP3
Release date: January 17, 2012
Good albums are easy to review. Picking out positive qualities and delving out a little praise isn't really that difficult. But when an album is great, things get tough, and there's something about Bones for Tinder that makes it especially challenging to review. Accredit this to what you will—the eclectic mish-mashing of genres, the group's collective abilities—but that something is remarkable.
Here, the oft-ignored tradition of African American old-time music wanders in a new direction. Lead by Justin Robinson (formerly of the heavily praised Carolina Chocolate Drops), the Mary Annettes (comprised of North Carolina musicians Elizabeth Marshall, Kyra Moore, Sally Mullikin, and Josh Stohl) take what's already familiar to fans of the Drops and filter it through their own tastes. For a band whose members credit Erykah Badu, Loretta Lynn, and "ossified remains of mammals" for inspiration, the process yields something we haven't heard a whole lot of.  Bones is unabashedly rooted in traditional music, but those aforementioned influences come out loud and clear.
The album's opening track, "Neptune," along with the later appearing "Bright Diamonds," "Thank You Mr. Wright" and "Nemesis or Me," stick to the relative basics. Here, Robinson and his cohorts adopt a kind of singer-songwriter mentality, applying their old-time roots to a format that embraces atypical instrumentation and song structure, often backing Robinson's vocals with a loosely-formed string trio, hand claps, percussive banjo and autoharp. Later, "Ships and Verses" and the haunting "Kissin' and Cussin'" (which previously appeared on the Chocolate Drops' Geniune Negro Jig) rely on—here comes the Erykah Badu influence—spoken word and rap traditions as much as folk and old-time. "The Phil Spectors" and "Gypsy Death and You," tinged with subtle electric guitar and surprisingly contemporary drums, are a strong end to the album.
Following is a live performance of "Devil's Teeth," recorded August 2011 at the Cat's Cradle in
Carrboro, NC: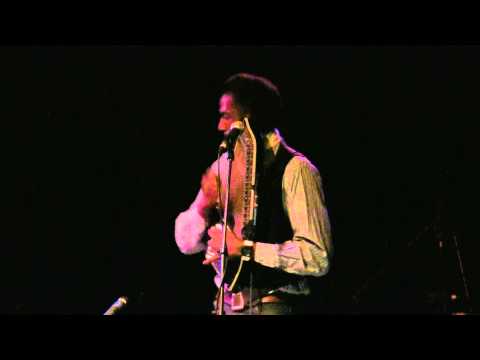 That's not to say, though, that there was ever really a weak point. Where Robinson and the Mary Annettes could have gone wrong, they went very, very right. Bones for Tinder is spot-on, an inspired and well-wrought album that appeals to fans of the Chocolate Drops' brand of old-time without being an old-time album. It's simultaneously of the moment and incredibly traditional, not trying too hard to be on either end of the spectrum. In the easy, unforced kind of way that can only be created by someone who really knows what they're doing, Bones for Tinder is an extremely likable album, and for that alone (whether you can put your finger on what else makes it so good or not), it deserves some praise.
Reviewed by Hannah Davis
Review Genre(s): Folk and Country