November 1st, 2012
Title/Artist: Anthony Brown & Group TherAPy
Label: Tyscot Records
Formats: CD, MP3
Release date: August 21, 2012
In January 2012, when gospel artist Anthony Brown signed with Tyscot Records, company president  Bryant Scott declared in a press release "[Brown is] extremely gifted as a singer, songwriter, producer, director, and playwright, making him a Triple-Threat Plus for the Kingdom of God."  As this self-titled debut album demonstrates, Brown undeniably brings exciting new music to the list of worship songs with his ensemble, Group TherAPy.
From one song to the next, Group TherAPy entertains us with constantly changing musical colors.  The title track, "Group Therapy," elicits a theater and jazz atmosphere, which pleasantly surprises the listener with a new style for worship.  Changing the mood completely, the tracks "I Will Be" and "Better Days" will make you move and praise with the church clap style.  Ballads like "Water," "Your Way," "Beyond Beyond" and "Deep Enough" make us recognize the Group's vocal skills and Brown's songwriting abilities.  Their sharp, powerful voices will surely reach people's hearts and bring them to a space of deep prayer.  Brown's lush voice is reminiscent of other contemporary gospel singers such as Donnie McClurkin, Richard Smallwood, Marvin Sapp, and Donald Lawrence.  In fact, Smallwood and Lawrence have both mentored Brown, and tracks such as "Harvest Song" seem to reflect their influence.
The project's first single, "Testimony," has attracted many worshipers since it was released, and has climbed to 15 on Billboard's gospel single chart. In the following video from TBN's Praise the Lord show, Donnie McClurkin, who is a big fan of Brown & Group TherAPy's music, introduces them to the audience with a strong conviction that their music will facilitate worship: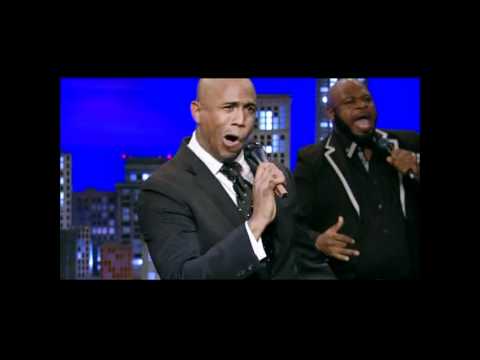 The capitalized AP in the group's name, meaning "(God) Answers Prayers," demonstrates their mission of singing to heal troubled minds with spiritual messages.  Indeed, Anthony Brown is a great gospel therapist with brilliant assistants, and it is certain that a number of people will be healed and saved through their music.
Reviewed by Yukari Shinagawa
Review Genre(s): Gospel Music and Spirituals