December 1st, 2012
If you're looking for new holiday music this year, here are my six picks from the sacred to the profane.
Title: Grace Gift
Artist: James Fortune & FIYA
Label: Entertainment One
Formats: CD, MP3
Release date: October 16, 2012
Beginning with the sacred, James Fortune offers his own unique contemporary Christian sound on Grace Gift, his first holiday-oriented album.  Fortune and his wife Cheryl, both gifted songwriters, penned several original songs for the album that breathe new life into a market oversaturated with standards:  the joyful uptempo "Christmas Time" featuring the full FIYA choir, the inspirational ballad "Worship The King," and "Mary's Song," a solo vehicle for Cheryl.  That's not to say that classics are neglected.  Longtime FIYA member D'Shondra Rideout shines on "First Noel" and Isaac Carree and Minon Bolton put a soulful spin on "This Christmas," while the rousing medley "Go Tell It/Wonderful Child" with Lisa Knowles and Shawn McLemore will have everyone dancing.
===============================
Title: Christmas with Earnest Pugh & Friends
Artist: Earnest Pugh
Label: EPM Music Group
Formats: CD, MP3
Release date: October 16, 2012
Christmas with Earnest Pugh & Friends is a blend of gospel, contemporary Christian and R&B with interludes that keeps the album fresh throughout the 14 tracks. Much of the focus is on soloists, with rising star Crystal Rucker featured on "Do You Hear What I Hear," Vincent Tharpe showing off a remarkable range on "Go Tell It," Quadrius Salters ushering in a contemporary styled "Silent Night," and Lisa Knowles in a more traditional gospel version of "O Come All Ye Faithful."  One of the stand-out tracks is the soulful "Ring Dem Bells," a stellar R&B arrangement showcasing Pugh's powerful vocals over a jazzy rhythm section. The intro, two interludes and outro feature humorous sketches and carols with children.  While cute, they do break up the flow, so unless you're enjoying this album with your family you might want to skip over these tracks.
===================================================
Title: Cee Lo's Magic Moment
Artist: Cee Lo Green
Formats: CD, MP3
Release date: October 30, 2012
Now on to the secular offerings.  Cee Lo's Magic Moment is far and above the most entertaining album of the lot, featuring high energy, excellent up tempo arrangements and a bevy of notable guests. In other words, just what you'd expect from the Voice coach.  Cee Lo's fellow coach on the show, Christina Aguilera, joins him for a duet on the classic "Baby It's Cold Outside," while Rod Stewart and Trombone Shorty join in on "Merry Christmas, Baby."  For the most part, though, Cee Lo carries the album, showing off his vocal chops on songs such as Donny Hathaway's "This Christmas," the soul drenched "Please Come Home for Christmas," Irving Berlin's "White Christmas" featuring a Motownesque trio of back-up singers, and the rocking "Run, Rudolph, Run:"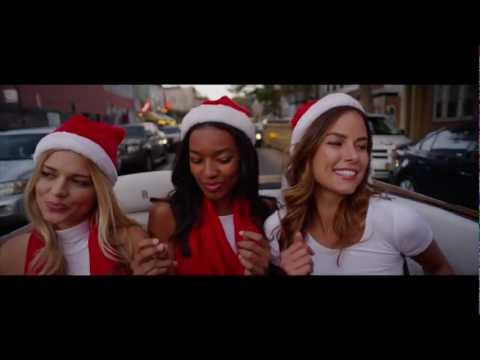 Cee Lo also throws in some a couple of songs to please the kids, with the Muppets jiving along on "All I Need Is Love" and the a cappella group Straight No Chaser  providing back-up vocals on "You're a Mean One, Mr. Grinch." I'm guessing that many of these tracks will be permeating the malls, and a holiday TV special is rumored.
==================================================
Title: What Christmas Means
Artist:  Kem
Label: Motown
Formats: CD, MP3
Release date: October 16, 2012
If you're in the mood for a less frenetic pace, What Christmas Means, from Detroit R&B singer Kem, presents jazzy, soulful ballads in the adult contemporary vein. Kem ensures a fresh approach by including no less than five original songs with sacred as well as romantic overtones, ranging from the opening "Glorify the King" to the closing a capella "Doo Wop Christmas." The highlight of the album is the duet with Ledisi "Be Mine for Christmas," in an arrangement that deftly incorporates elements of Gamble and Huff's "Me and Mrs. Jones." Rounding out the album are jazz arrangements of more traditional songs such as "Merry Christmas Baby," Christmas Time is Here" and Mel Tormé's "The Christmas Song." This is the perfect album to sooth your frazzled nerves after a day of shopping, or to set the stage for a romantic evening at home.
===========================================
Title: Santa's Got Mojo 2 – An Electro-Fi Christmas Blues Celebration
Artists:  Various
Label: Electro-Fi
Format: CD, MP3
Release date: October 16, 2012
Now on to the more irreverent offerings. If you're looking for something less traditional, then check out the second installment of Santa's Got Mojo from Toronto-based blues label Electro-Fi.  The album kicks off with the slow and sexy burner "Be My Santa Claus" by Shakura S'Aida, and features two tracks by the Canadian blues rock band Fathead, including "Santa's Drunk." Other highlights include Paul Oscher's "Christmas Blues," Fruteland Jackson's rollicking "Fat Santa," Johnny Laws' "Christmas Comes But Once a Year," and my personal favorite, Julian Fauth's "Hallelujah in the Mall." You get the picture―an entertaining set of blues covers and original songs perfect for parties.
=======================================
Title: Christmas Is ON!
Artist: Gary U.S. Bonds
Label: G.L.A. Records
Formats: CD, MP3
Release date: September 11, 2012
Though I haven't been able to lay hands on a copy and the MP3 samples only became available last week, the first holiday album from Gary U.S. Bonds must be included on the short list. True to form, Bonds kicks off with a houserocker: the title track "Christmas Is ON!" is meant to get the party started with a fierce boogie woogie piano accompaniment. Bonds wrote seven more original songs for the album, including "It's Christmas in Nu Awlins" that harkens back to his first big hit ("New Orleans" released in 1961), "Christmas Is a Phone Call Away" which is a great old-fashioned rhythm and blues romp with a honking sax solo, the tongue-in-cheek "Shopping for Clothes" done Bo Diddley style, and the grooving "Santa Bring My Baby Home to Me" over a lilting reggae beat. A few standards are also given the Bonds treatment, including a terrific doo wop version of "White Christmas" and the rocking "Santa Claus is Coming to Town." So if you're looking for some old-school music for the holidays, you can't miss with Gary U.S. Bonds' Christmas Is ON!
Reviewed by Brenda Nelson-Strauss
Review Genre(s): Popular, Rock, and Misc.,Rhythm & Blues, Soul, Funk