Title: Long.Live.A$AP.
Artist: A$AP Rocky
Label: RCA
Formats: CD (12 track ed., 16 track deluxe ed., and clean ed.), LP, MP3
Release date: January 11, 2013
A$AP Rocky, also known as Dat PMF, Lord Flacko, or Rocky, is Harlem's hottest  up and coming rapper.  After releasing his Live. Love. A$AP. mixtape in 2011, there was much hype about the new rapper and his unique way of laying verses.  Though Rocky's much talked about debut album was put on hold due to clearing samples, this  masterpiece was finally released on January 11, 2013, and was well worth the wait.
Long.Live.A$AP has a fresh, new style that is unlike any album before it.  Featuring rappers such as Kendrick Lamar, Drake, ScHoolboy Q and 2 Chainz— all extremely popular  in the game right now— Rocky takes the album to the next level by also including artists from other genres like Florence (of Florence and the Machine), Santigold, and Skrillex. This gives the album an edge that most other rap albums lack.
Though A$AP Rocky has often been criticized for his seemingly meaningless lyrics and still has some improving to do, he proves his ability to hang with lyricist of the year Kendrick Lamar on "1Train."  This track is a very unique combination of seven pronounced rappers, including Rocky, Big K.R.I.T., Kendrick Lamar, Yelawolf, Danny Brown, Joey Bada$$, and Action Bronson, who each drop their own, distinctive verse.  Unlike anything mainstream, the track holds no chorus, only a consistent beat, which almost makes it sound like a freestyle or rap battle. The rap game could use more tracks such as this that showcase each rapper's individual talent.  Other notable tracks include "Wild for the Night" which is a perfect party song, "Goldie" which demonstrates Rocky's distinctive voice and amazing beats, and "Fashion Killa" about one of Rocky's favorite things besides music: fashion.  These songs all create an extremely different listening experience.
Following is the official music video for "Wild for the Night," filmed in the Dominican Republic and featuring Skrillex & Birdy Nam Nam: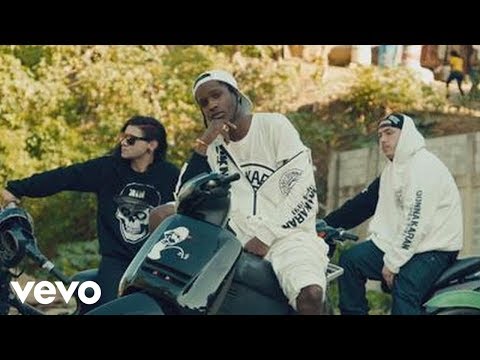 Rocky's biggest weakness on Long.Live.A$AP is the single, "F**kin' Problems."  Rather than displaying Rocky's unique talents, this song takes on a more mainstream pop/hip hop sound that's devoid of the many aspects that make him a successful rapper.  Rocky's biggest strength on the album is the diversity of each song; no song sounds like any other.  He has chill songs such as "Phoenix," straight up raps such as "Suddenly," party anthems such as "Wild for the Night," and even songs with a softer aesthetic that feature a female vocalist as heard on "I Come Apart."  As a whole, this album is one of the best of the recent rap releases. A$AP Rocky might just become the rap game's newest MVP as he proves himself with his innovative, next level album Long.Live.A$AP.
Reviewed by Melissa Egert
View review May 1st, 2013