Title: Goblin
Artist: Tyler, the Creator
Label: XL
Catalog Number: XLCD529
Formats: CD, LP, MP3
Release date: May 10, 2011
The Los Angeles hip hop collective Odd Future Wolf Gang Kill Them All (a.k.a. Odd Future) speaks to contemporary disenchanted, disengaged youth in the same way N.W.A. did twenty years ago. Controversial lyrics speak to both Black youth who directly relate to the anger and experience of the collective's members, as well as White youth who sense the danger and relate (or at least want to relate) to the outsider status espoused in the lyrics. OFWGKTA's breakout member Tyler, the Creator's first non-self-released album, Goblin, is a shining example of the crossover appeal that exists around aggressive, violent hip hop and how the internet has allowed that crossover to grow exponentially faster and with less of an industry vetting process.
Following is the official video for the single "Yonkers":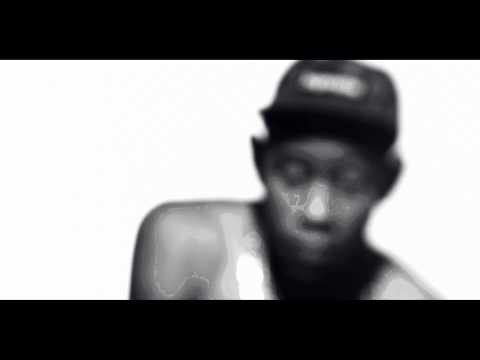 OFWGKTA rapidly gained popularity over the last few years by posting their mix tapes on hip hop message boards, where they were picked up by the internet hype machine. By the time Goblin was released in May of 2011, Tyler was already "internet famous." OFWGKTA concerts have been selling out in major cities within hours, and websites from Pitchforkmedia.com to personal Tumblr pages have devoted multiple entries to OFWGKTA's fresh, rough-hewn sound.
Goblin is unique in the realm of controversial yet popular hip hop, however, because it bleeds admitted vulnerability from every track. Tyler is not a gangster, he is a nineteen-year-old who talks a big game and then gets upset when people take him at his word. He uses an imagined conversation with his therapist, Dr. TC, as a framing device throughout the album (as he did on previous self-releases), beginning on the eponymous first track which opens with a deep, distorted male voice saying:
You wouldn't do that Tyler, kill yourself or anyone, you don't even have the balls to begin with. What you need is me, someone to talk to. Now, it's been a while since our last session, so tell me what's been going on.
Tyler then responds, with his first words on Goblin:
I'm not a fucking role model.
While some have accused Tyler and the other members of OFWGKTA of being whiney, or have rightfully called them out on their use of homophobic language and graphic descriptions of violence against women, this music is important and challenging because of its rough and sometimes disturbing content. Listening to Goblin is like reading the notes an angry high-school student writes in the back of the class while ignoring the lecture and re-imagining himself as an Alan Moore style outsider superhero. There is a reoccurring theme throughout Goblin of Tyler's dismay that people listen to his lyrics and take offense, not because he doesn't know he says offensive things, but because he is surprised that people are actually listening (even though he obviously wants them to). This petulant "have-your-cake-and-eat-it-too" attitude is summed up in the track "Radicals":
Random Disclaimer
Hey don't do anything that I say in this song, O.K?
It's fucking fiction.
If anything happens, don't fucking blame me, White America.
How much you like this album will probably depend on how much you remember about being a rebellious teen who both hated authority figures and wanted all of their attention in paradoxically equal amounts. Many listeners may be past that stage in their life, or perhaps never experienced rebellion, but Goblin exists as a fixed tribute to teenage confusion. As Tyler, the Creator grows older he may come to be as embarrassed by this album as others are embarrassed by their teenage experiments with hair-dye or piercings, but Goblin marks an important turning point in popular culture's exposure to unfiltered teenage angst. With the rise of the internet, youth talk directly to youth, allowing new musical bonds of disenchantment to form internationally and without the guiding hand of music industry adulthood.
Reviewed by Dorothy Berry
View review October 3rd, 2011