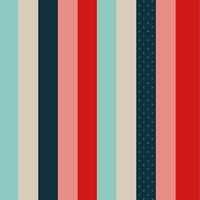 Title: The Polka Dotted Stripe
Artist: Jaspects
Label: Jaspects Music Group, LLC (dist. by CD Baby)
Format:  CD, MP3
Release date: April 2009
_
Somewhere I heard someone describe the Jaspects sound as "jazz for your trunk." Perfect description.  Jaspects is an Atlanta-based jazz sextet that makes music you can blast from your speakers and rattle a few windows. They have created a winning formula that unites their straight-ahead jazz roots with synth-pop vibes, and the trunk-rattling bass knock for which the South is known.
With their fourth project, The Polka Dotted Stripe, Jaspects, who met while playing in the Morehouse College jazz band, presents not only the Jaspects sound, but the Jaspects worldview. According to their website, the concept of the polka-dotted stripe is all about expanding ones horizons to find solutions in the gray areas of life and push beyond boundaries and convention. The title track announces to the listener "You are not cool if you are not free; you are not free if you cannot see the polka-dotted stripes."
But what does PDS sound like? It's mélange of fast and slow, acoustic and electro, but it's greater than the sum of its parts. The single "Unifunk" is an uptempo dance track that has ethereal keyboards in the background, punctuated by horns and four-on-the-floor drums while buried and distorted vocals encourage the listener to "unify through unifunk."  Embedded in the intro is the voice of Dr. Martin Luther King, Jr. giving the opening to his February 1968 sermon "The Drum Major Instinct," which is accentuated by drum corps-esque playing by Jaspects drummer, HC3. On PDS, lyrical creativity doesn't take a backseat musicality. The downtempo track "Play On" takes its refrain from a quote from Shakespeare's Twelfth Night which says "If music be the food of love, play on."
Simply put, PDS is a well thought and executed project that shows the evolution of Jaspects through four albums and over 300 live performances. Unlike their third album, Broadcasting the Definition, which relied heavily on features from vocalists like Janelle Monae, Scar, and Terrence Cotton, the core of PDS uses features by Janelle Monae and PJ Morton sparingly such that the core of PDS is Jaspects.
I admit I only recently found out about Jaspects, but their music has been featured on the CNN documentary Black in America and members of Jaspects have worked with renowned artists like Big Boi, Wyclef, David Banner, Mary J. Blige, and Carlos Santana. In an era where everyone claims to be "different" PDS truly is. What's more, they have the vision and musicianship to pull it off.  So if your jazz music could use a little more bass, or you're curious about how MLK sounds over a dance track, or maybe you just need a little something different on your iPod, I unequivocally recommend The Polka Dotted Stripe.
Reviewed by fredara mareva
(Fredara blogs on her dissertation progress at alienatlien)
View review March 5th, 2010